Katy Stafford, Chair of trustees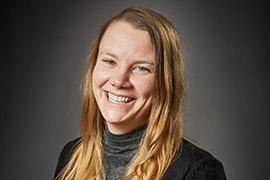 Katy lives in London and is the daughter of David Stafford, who was a co-founder of Nacoa in 1990. David died in 1997 and Katy holds Nacoa closely to her heart for a number of reasons, her Dad being one of them.
Katy always had a passion and deep care for people and their mental health. She trained to be a Mental Health Nurse, and started her career spending five years in children's in-patient services, and loved every minute of being with those she was there to serve; patients and their families. Alongside this she also trained as a DBT Therapist and did some work in this role in the community. Since then Katy moved into adult in-patient services as a Matron, then Clinical Lead Nurse Manager, and more recently an Improvement Lead Nurse over a number of Mental Health Services. Throughout this time, her passion and love of people and mental health has only grown.
Katy is driven by serving people, and particularly those that may be experiencing challenges within their mental health. She wants to dedicate herself to the role of Nacoa Trustee and hopes to raise the platform for Nacoa within the Mental Health Services in the NHS as well as supporting and encouraging the charity in every way possible. In 2018, Katy won an award for being in the top 70 NHS staff at the '70 at 70′ NHS celebrations in Westminster Abbey.