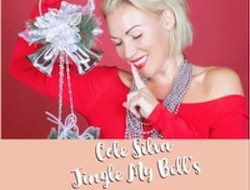 Christmas is difficult time for children affected by their parent's drinking. But we think is still so important to find moments of fun and enjoy what the season has to offer. Cole Silva has given us that this week!
We are so delighted to announce the release of Cole Silva's new joyful Christmas tune, 'Jingle My Bells'. A charity single whose proceeds will go to support the Nacoa helpline.
Cole established her music career as a country singer and a presenter on Sky TV, recently developing into a soulful pop voice of the future.
Nacoa's work helping children of alcohol dependent parents is close to her heart. Cole says, 'I chose Nacoa, as my own dad was an alcoholic. Christmas was always very heated and argumentive for our family. In fact, my dad actually attempted to strangle me in a drunken rage one Christmas day when I was 14 years old.
'I chose to do a xmas song to prove that you dont have to be a victim. Its your choices that help you not suffer from the experience of others. The work Nacoa does is second to none, and I will do my upmost to help you and promote this charity.'
You can buy Cole's fabulous festive charity single now for 99p at iTunes or CD Baby.