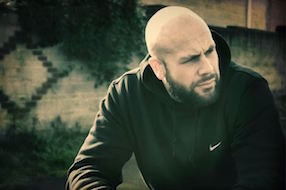 Rap artist and Nacoa supporter, Gimson, has released a track inspired by Upfest and performed by its young attendees, 'Kids Rap Upfest 2016.' The song, which is available below, was composed by Gimson and performed by some of the very best aspiring vocal artists who partook in Gimson's rap tutorials held in aid of Nacoa at Europe's largest urban art festival.
Gimson based himself at the ever-popular Kids' Area, located at Upfest's Nacoa Village. In aid of Nacoa, Gimson provided tutorials focusing on the process of writing and honing lyrics and rhymes, and recorded their creations for this specially assembled song. As promised, the poetic fruits of these young rhymers has now been published on our Youtube page and is available below.
Nacoa and Upfest have worked in partnership since the festival's first iteration in 2008, a small fundraiser for Nacoa in the courtyard of a theatre venue in Bristol. Since then, Upfest's popularity has exploded and each year now comprises over 300 artists, who paint at 28 sites that cover 2 miles, and attracts over 35,000 visitors from all over the world. Thanks to its creators, Steve and Emma Hayles, Upfest has become a major international event from which Nacoa is able to generate ever-needed funds and raise awareness of our work.
Nacoa volunteers marshal the event to raise awareness, earn funds, and ensure safety, while also hosting events, selling cakes, operating a vintage clothes store, and managing the Kids' Area. Gimson's tutorials were held in the relative tranquillity of the Kids' Area at the Nacoa Village, off the main road at Upfest's South Street Park location. Parents fed back that their children 'really enjoyed themselves' and took a great deal of inspiration from spending time with Gimson.
Gimson has been an ambassador for Nacoa since the release of his single 'Oh Daddy', a song that foregrounds the cyclical struggles of a young person growing up with a parent who drinks too much. Since then he has become a long-term supporter. After reading Nacoa's research which shows that 1 in 5 children in the UK are affected by their parents drinking, Gimson said that he 'knew it was a lot but did not realise it was as high as this.' He pledged all profits from 'Oh Daddy' to Nacoa, and since has helped generate awareness and funds through his music.