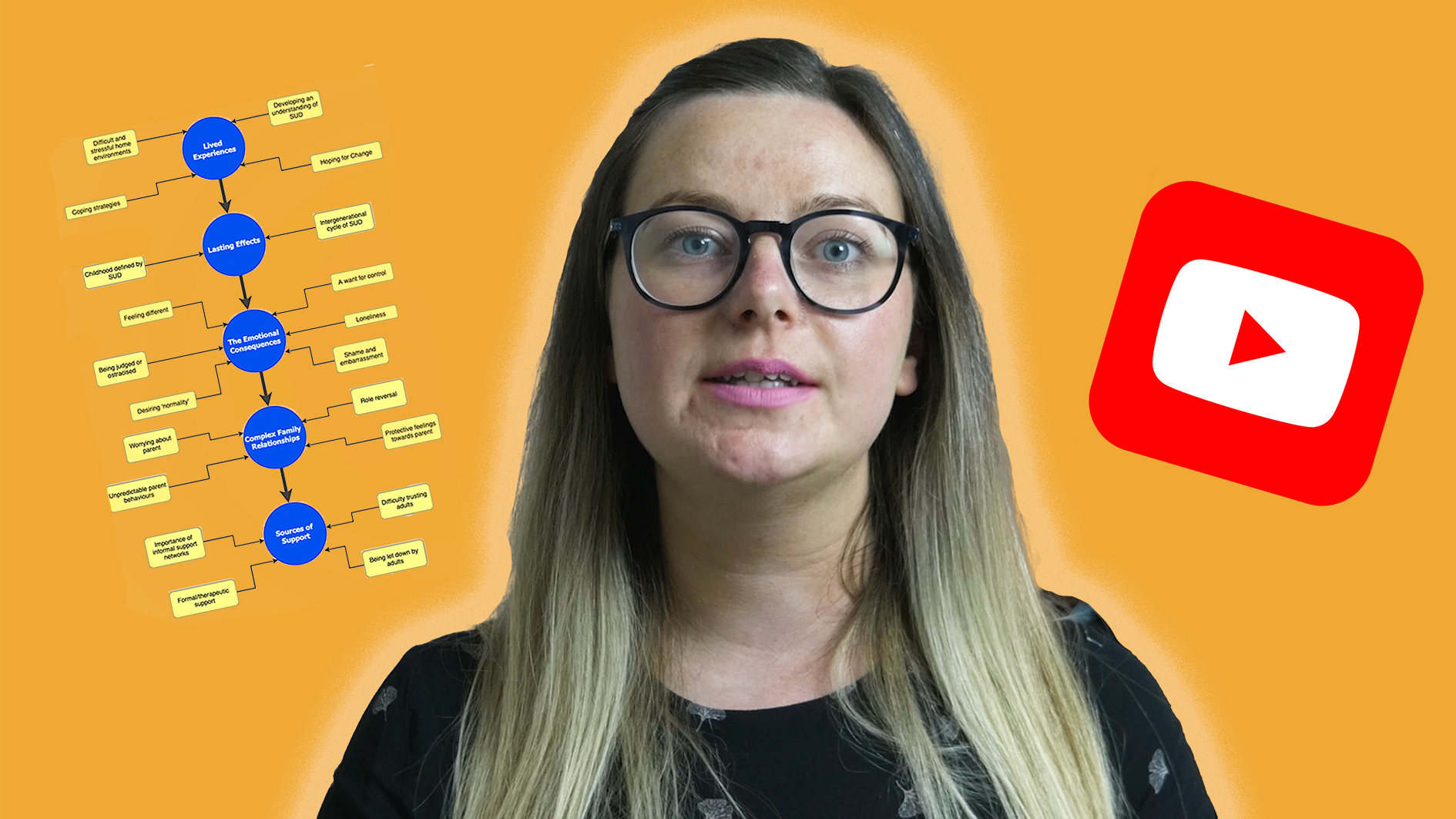 Living with Parental Substance Misuse – Research By Jessica Allen-Summers
As part of my Doctoral research in Educational and Child Psychology, I have been investigating the effects on children of living with parental substance misuse. For the purposes of this research, I used the following definitions of substance misuse: regular use of illegal substances (for example heroin, cocaine, mephedrone) or excessive alcohol consumption to the extent that it impairs functioning in other aspects of life such as work, family and self-care.
This project involved analysing seven research papers which focussed on eliciting the voice of the child to find out from those who have experienced it first-hand what it is like to grow up in a household where there is parental substance misuse.
I used a meta-ethnographic approach to analyse the data. The aim of this was to pull together all the accounts from the seven papers to configure a novel interpretation of what it is like for children to grown up with parental substance misuse. From this analysis process, I identified five key themes which encapsulated the essence of the children's experiences. These themes were:
Many of the children talked about difficult and stressful home environments, which were chaotic and sometimes unsafe. Coping strategies included things like hiding in bedrooms or going out to friends' houses to avoid being with their parent whilst they were under the influence of drugs or alcohol. Some children talked about how developing their understanding of substance misuse disorder (SUD) was helpful, so that they understood more about the addiction and how it can affect families. Hoping for change was also a key theme in the children's accounts, and they often held out hope that things might improve.
Inter-generational patterns of substance misuse were common for many of the families. Children talked about not only parents but grandparents and other family members such as aunties and uncles and step-parents also experiencing SUD. This points to a strong inter-generational cycle in substance misuse. For older children, there was a feeling that sometimes their overriding memories of childhood were around the SUD, and that their childhoods were defined by substance misuse above anything else.
Feelings of loneliness, shame and embarrassment were often reported by the children. Some also spoke of how they were judged or ostracised by others and how badly this made them feel. Many children just wanted to feel 'normal' and to have more control over their circumstances.
Complex Family Relationships
Feelings of love and care towards parents were often accompanied by feelings of anger and frustration towards them. Children often took on caring roles within the family, both for younger siblings and for their parents. Parents' behaviours could be unpredictable depending on the status of their substance misuse, which can be worrying and confusing for children.
Support networks within school, family and community were very important. This included support such as having somewhere to go to outside of the home and having someone to talk to. Many of the children talked about how they found it difficult to trust adults as they had often been let down by adults.
These themes and sub-themes are illustrated in the figure below: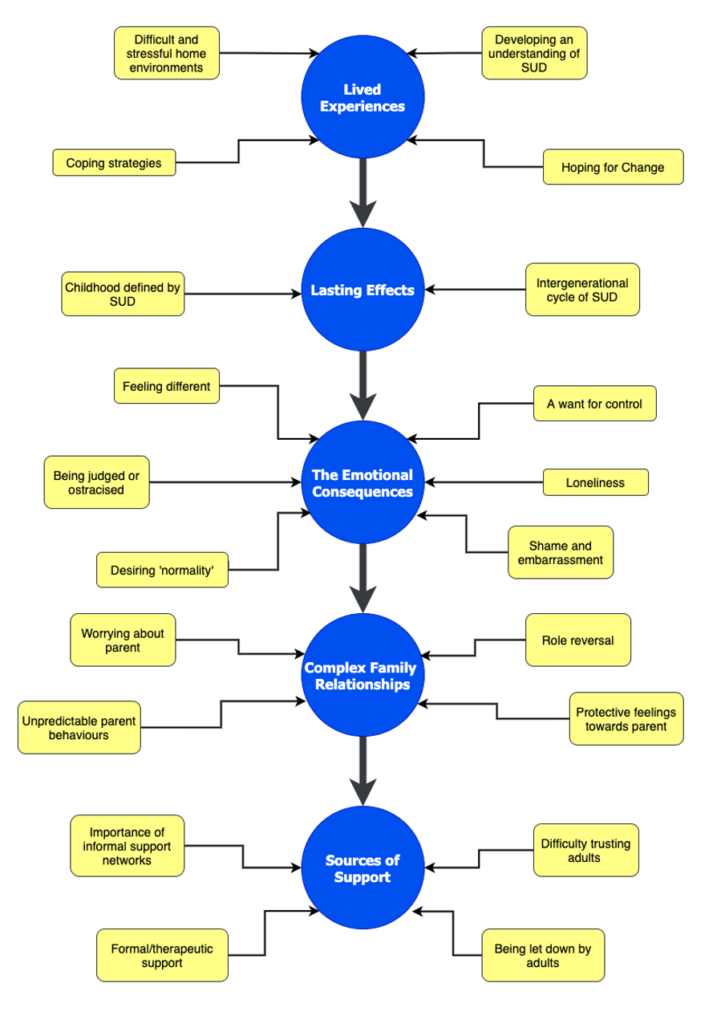 The process of carrying out this research was useful and informative in helping us to understand more about what it is like for children who are living with parental substance misuse. Understanding the emotional and day-to-day experiences of these children can help adults in children's services and support roles to think about and understand how to offer the right support for these children. It can also help us to understand more about these experiences and create a dialogue around it, so that children who are experiencing it can feel less isolated and alone in coping with the challenges of parental substance misuse.
By Jessica Allen-Summers