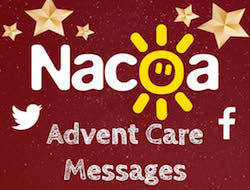 The festive season can be difficult for families blighted by alcohol problems.
Christmas and New Year is meant to be a time of celebration and togetherness, making it doubly sad for children living under the shadow of parental alcoholism. It can be a distressing time, reinforcing feelings of isolation and a sense of being different. On top of the pressure to have a 'joyful day', usual routines, such as school, stop so many feel trapped at home.
Advent Care Messages
For the whole of the Advent Season in 2017, Nacoa will be posting Advent Care Messages from people who care and want to pass on their support for these children for whom Christmas is a time of pain and worry.
If you are not on Twitter, Facebook, or Instagram, don't worry. We will be updating this page every time a message is posted.
The days following Xmas Day can be the hardest for children of parents with a drink problem. It is so important to find a safe space. @ellemacpherson today sends our last #AdventCare message of 2017 to remind all COAs that #URNotAlone. pic.twitter.com/PjWcjceO2q

— Nacoa (@NacoaUK) December 28, 2017
At Xmas, as a child or young person whose parent has a drink problem, things can get really tough. MP and COA campaigner @JonAshworth today send his #AdventCare message to urge them not to suffer in silence. #URNotAlone pic.twitter.com/xohsaJnB4Q

— Nacoa (@NacoaUK) December 24, 2017
The Nacoa helpline is open every day over the Xmas period for anyone affected by a parent's drinking: 12-6pm. If you're worried or suffering, we will be there for you. #URNotAlone #AdventCare https://t.co/DP86mQHNGz pic.twitter.com/hRZrIaIffu

— Nacoa (@NacoaUK) December 23, 2017
Did you know that across the UK there are millions of children and young people living with a parent who has a problem with alcohol? Today, TV doctor and Nacoa supporter @DrRanj sends his #AdventCare message to them. pic.twitter.com/S4pKCdcjg4

— Nacoa (@NacoaUK) December 22, 2017
'Feeling like you come second-best to alcohol is horrible, especially at Christmas'. @MonicaLennon7 reaches out today in her #AdventCare message to anyone affected by a parent's problem drinking. pic.twitter.com/YnBlOhxjE9

— Nacoa (@NacoaUK) December 21, 2017
My advent card message to and from @nacoauk who I've proudly been patron to for the last 10 years https://t.co/lvxJN0eWnb

— Calum Best Official (@CalumBest) December 20, 2017
So proud to be a patron https://t.co/WmPKMBl03f

— Calum Best Official (@CalumBest) December 20, 2017
At Xmas, a child of a problem drinker can be forced to deal with grown-up issues far beyond their years, which goes on to affect them throughout their lives. Today, TV star and Nacoa patron @CalumBest sends his #AdventCare message to them. pic.twitter.com/BIawmu0NKH

— Nacoa (@NacoaUK) December 20, 2017
Even if a parent is not ready to address a drink problem, you can still go on to live a good life. @CraigRevHorwood today sends his special #AdventCare message to remind those affected that speaking can help you feel better, and you can go on to fulfil your dreams. pic.twitter.com/PAqYtPamNK

— Nacoa (@NacoaUK) December 19, 2017
Xmas is so challenging for children in a home where someone drinks too much. Today's #AdventCare message is from actor and Nacoa patron, Geraldine James, who wants you to know that you are not alone. pic.twitter.com/BmMUfE5rdU

— Nacoa (@NacoaUK) December 17, 2017
By just listening, we can truly help someone affected by a parent's problem drinking over Christmas. A very special #AdventCare message today comes from the Archbishop of Canterbury, @JustinWelby. pic.twitter.com/jALFcYhazH

— Nacoa (@NacoaUK) December 14, 2017
Today author and journalist Virginia Ironside sends her #AdventCare message for anyone affected by parental alcohol problems.

If you will be doing all you can to protect those around you this Xmas, remember to make time for yourself too. pic.twitter.com/bBRUoIW93W

— Nacoa (@NacoaUK) December 13, 2017
Delighted to contribute today to @NacoaUK's #AdventCare campaign. If you know the child of an alcoholic, reach out to them this Christmas and tell them about @NacoaUK https://t.co/ygiU4tqmir

— Camilla Tominey (@CamillaTominey) December 9, 2017
The festive period brings so many worries for children of a parent with a drink problem. Nacoa supporter and political editor @CamillaTominey today sends her #AdventCare message to let them know that help is here for you—even on Xmas Day. pic.twitter.com/XjEEoM7Mx9

— Nacoa (@NacoaUK) December 9, 2017
To families this festive season: may your home be peaceful and full of joy.
My message as patron of the unique charity @NacoaUK The National Association of Children of Alcoholics.
If you need support with drink related household and families issues contact us. https://t.co/CP77FZXRFG

— Lauren Booth (@LaurenBoothUK) December 7, 2017
Journalist, broadcaster and Nacoa patron @LaurenBoothUK today sends her Advent Care Message to all children and YP affected by a parent's drink problems during the festive season. pic.twitter.com/x66ti5gX1H

— Nacoa (@NacoaUK) December 7, 2017
'Young people need to be able to talk honestly about their feelings.' An open #AdventCare message today from Nacoa patron and Arsenal footballer, Tony Adams, to anyone affected by parental alcohol problems. pic.twitter.com/Rghoh6BhEn

— Nacoa (@NacoaUK) December 3, 2017
'A kind word costs nothing but could change the world'. Actor and Nacoa patron Cherie Lunghi today sends her #AdventCare message to help anyone affected by a parent's drinking. pic.twitter.com/mqJeewqZPB

— Nacoa (@NacoaUK) December 2, 2017
If you're a child of s/one who drinks too much, remember: you're not alone; it's not your fault – & there's help out there for you @NacoaUK https://t.co/3yFPCX5KeA

— Liam (@LiamByrneMP) December 2, 2017
Happy 1st of December! A time of celebration for some—sadness and fear for others. Today we begin our season of Advent Care Messages with a thought from @LiamByrneMP to everyone affected by a parent's problem drinking. pic.twitter.com/GyiX52kWku

— Nacoa (@NacoaUK) December 1, 2017