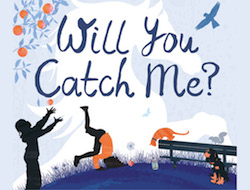 Author of children and young people's fiction, Jane Elson, has this month published her much-anticipated new novel, Will You Catch Me?. A story of a young girl fascinated by wildlife, Nell Hobbs, who struggles growing up as a child of an alcohol-dependent parent.
Nell is a budding naturalist, with a flair for animal rescue. In her bedroom she lovingly cares for a mini-menagerie of rescued pets from previous homes, which have been abandoned, bereaved, or removed by authorities. She makes a community of her animal friends harmed by circumstances beyond their control.
As an only child, living with an albeit well-intentioned mother who is consumed by the 'demon drink', Nell's 'animal family' provides a feeling of permanence in an otherwise chaotic life. But during episodes of distress and neglect, Nell is taken care of by the kindly Jamaican family next door, Aunty Lou and her sons. When required, into action springs 'Operation Ark' as they swiftly ferry Nell and her animals to their flat as a safe haven.
Although there is pain here, Elson holds out hope for children of alcoholics through a faith in the power of community. Although Nell struggles with the regularity school demands, she is still supported by a sympathetic cast of teachers who encourage her passions for the natural world and make figures of history 'come alive' to help her cope.
Through the passion for history nurtured by her teachers comes the moment Nell hears about her heroine and 'guardian angel' Nell Gwyn, the Covent Garden comic actress who rose from selling oranges in the aisles to an adored icon of the stage.
Nell's 'blood freezes' when history teacher Mr Samuels tells her that 'Nell Gwyn's mother was also an alcoholic'. She realises her 'very soul is tied to Nell Gwyn' and that being the child of an alcoholic is a thing. What is more, she, too, like Nell Gwyn, might overcome adversity and flourish.
Nell goes on a journey of discovery, attempting to seek out her absent father in the many kind community figures who guide her through her troubles, culminating in a spectacular final scene at a historical pageant which is best left unspoilt. When Nell falls in the final yards of searching for her true father, who will come to catch her?
This is a marvellous piece of writing, full of richly drawn (human and non-human) characters, all inflected through Elson's colourful imagination. But what is so resonant and original about this book is the remarkably sensitive and true-to-life portrait of growing up a child of an alcohol-dependent parent.
Elson says the story was inspired by coverage of Nacoa's work in the media: 'When I first said [to my publisher] that I wanted to write a children's story about Nell, an eleven year old whose Mum is alcoholic, and whose guardian angel is Nell Gwyn I think everyone was taken aback.
'But then the headlines started to hit the newspapers and the TV Programmes. Every week there were news stories about just how many children in this country have alcohol-dependent parents. For me the most heart-breaking newspaper headline line was "My Mummy is Drunk, Please Read To Me". Nacoa receive phone calls from children as young as five. They are an amazing charity.'
Elson's imagination was fired on seeing Nacoa's work highlighted on the front page of the Sunday Express. She wanted to relate the real experiences COAs face and celebrate the ways they cope through community. The gravity the campaign for COAs created around the issue in the press and online touched countless souls who recognise their own adverse experiences and find their health is improved by reaching out
.
Over recent years, myself and the wider Nacoa community have been exceptionally proud to be at the heart of a movement of people sharing stories that echo experiences felt by people affected by a parent's drinking. We share stories in the press, blogs, social media, politics, or fiction, and have raised the ears of the wider public consciousness that being a COA is a thing and they need help.
Not too long ago, the Archbishop of Canterbury Justin Welby wrote to Nacoa saying he thought we are 'so important because you can be the source of a real community', offering 'the chance of healing and the hope of purpose to people whose lives have been disrupted and diminished by the effect of alcohol abuse.'
In the dedication to Will You Catch Me?, Elson also says that 'Nell is extremely fortunate' to have an extended community network to shield her from some of the more fierce aspects of a parent's dependent drinking. But if someone isn't so lucky, we need them to know that 'you are not alone' and Nacoa is here to help.' There is community here for you no matter how bad things get.
The positive change for Nell is in the knowledge that Nell Gwyn grew up with this problem, and with the help of a community went on to rule the stage and reach goals thought out of sight. For many, Nacoa provides that community which helps provide comfort in times of chaos and inspiration in looking to the future. By sharing amazing stories like Will You Catch Me?, we find moments of healing and hope for generations to come.
To buy the book, click here.
Article written by Piers Henriques, Nacoa communications lead and final year PhD candidate in English Literature at the University of Cambridge. Follow on Twitter: @piers_henriques.