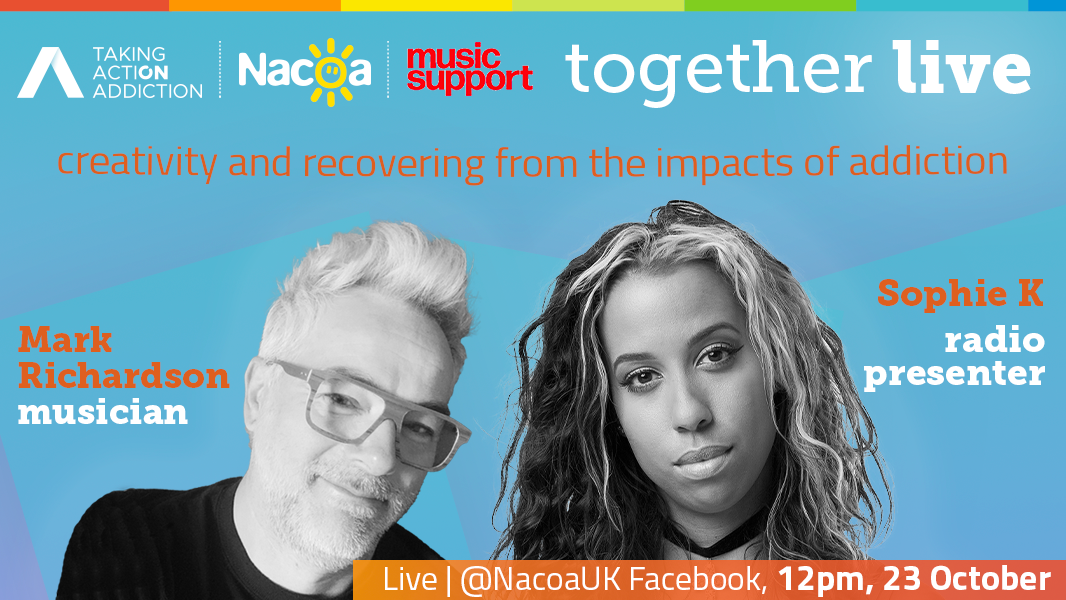 Event went out live on 12pm, 23rd October | @NacoaUK Facebook Live
To celebrate Addiction Awareness Week, Nacoa and Music Support hosted a special live event with Sophie K and Mark Richardson.
In this special livestream brought to you by Nacoa and Music Support, Sophie and Mark will discuss how creativity helps them recover from the impacts of addiction.
Sophie K is a presenter in the world of rock. She presents for Kerrang Radio, Absolute Radio and Amazon Music to name a few. She was recently appointed as a Nacoa patron, Sophie is a powerful voice for people affected by the impacts of addiction.
Being a patron of Nacoa is important to me because I want to spread awareness about how the disease of addiction affects children and leaves effects which last for life.

Sophie K | Nacoa patron and radio presenter
Mark Richardson is a self-taught musician and has played drums for Little Angels, Feeder and Skunk Anansie. He is also the founder of Music Support, the charity who make sure that nobody in the UK music industry is left to be affected alone with mental ill-health or addiction.
Discover more about the Taking Action on Addiction campaign by tapping here.