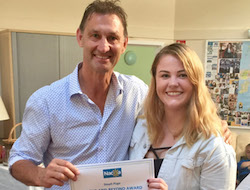 This year's Volunteers Awards Evening was graced by the presence of the Deputy Lord Mayor of Bristol Councillor Lesley Alexander and Nacoa Patron of 16 years, Tony Adams.
Hilary Henriques welcomed friends, supporters, members and volunteers who joined together to celebrate 28 years providing information, advice and support for everyone affected by a parents drinking, during which time over 330,000 helpline calls, emails and online messages had been received, the vast majority from children whose parents do not acknowledge or seek help for their problems.
In 15 of those years (2001 to 2015), including website visits, over 1M contacts were reached, which is impressive but there is something more important than numbers: the individuals who need our help and support and those who provide it.
Our work with some of the most vulnerable children in the UK is made possible by some of the most compassionate volunteers in the world, including guest speaker, Josh Connolly who accepted the role of Ambassador in recognition of his dedication and commitment to raising awareness through COAisathing.com.
Tony Adams presented certificates of thanks to volunteers who had taken part in fundraising, research studies, helpline evaluation, communications, Upfest, raising awareness throughout the UK, in addition to helpline work.
Special awards went to:
New volunteers of the year                Margaret Taylor
Upfest Volunteer of the year             Lloyda During
Outstanding achievement                Jason Anderson and Rebecca Rock
Long service award                            Frances and Peter Irwin
Above and beyond award                 Steph Page
Maya Parker award                            Georgia Enders
Volunteer of the year                           Martin Ubank
The words 'you are not alone' and NacoaUK are now firmly emblazoned in the public consciousness as previously silent voices are being heard. One of them recently said:
"You can never really know the relief it is to find there is someone out there who is prepared to listen to what I have been through. You have probably saved my life."