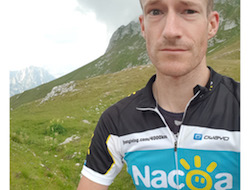 Nacoa simply could not be here without our amazing supporters and fundraisers. Among those who take on incredible feats of strength and endurance to raise funds and awareness for Nacoa is David, who is shortly returned from his astounding 'self-supported' transcontinental race across Europe.
Here is his blog describing his incredible journey, and the experiences that led him to know about our charity.
David's Fundraising Blog:
'Reading the accounts and experiences of others on Nacoa's website was a revelation….'
I took part in the Transcontinental Race – a bicycle race across Europe, which started in Belgium and finished in Greece. There was no fixed route. Each of the 260 participants planned their own route in advance – some opting for flatter and longer routes, others opting for more direct, hillier routes. In addition to the start and finish locations, there were four mandatory control points through which to pass in Austria, Slovenia, Poland, and Bosnia & Herzegovina.
The total distance was just under 4000km, with approximately 36,000m of ascent.  The race was entirely self-supported – there were no team cars nor support crews to carry clothes, food, spares, etc. Instead, each rider carries eveything they need or buys what they need along the way.
Aside from being a challenging race, it was a fantastic adventure – landscapes and cultures gradually changing at the turn of the pedals. Sleeping only when necessary, and eating whenever possible! I finished within 14 days, unofficially 53rd place, dropping several places during the penultimate day due to multiple punctures!
I was drawn to Nacoa after my mother's death in 2016. After the sadness had subsided, I began to notice a weight had been lifted. I began to reflect on the impact that her drinking had had on our lives, our relationship with each other, and our relationships with others. I had grown accustomed the patterns of her drinking, and to the futility of asking her to cut-down or to seek help for the addiction.
I became aware of Nacoa only after her death, via a feature on Radio 4 during Nacoa's awareness week. Reading the accounts and experiences of others on Nacoa's website was a revelation. Accounts which I could empathise with from my own experience; I had a realisation that this was a much more common situation than I'd imagined.
Even though this was after her death, I found the information on Nacoa's website very helpful to make sense of what had passed, and I know that it would have helped me had I known about it years before. I'm aware that Nacoa is a small charity which provides its essential support with a limited budget, funded via donations, and without the huge marketing budgets associated with better-known charities.
For this reason, I have vowed to raise awareness of Nacoa via future sporting endeavours. My sport of choice is cycling – I've ridden bikes since the age of 6, and the mix of freedom, focus, and endorphins is my sanctuary! I plan to compete in at least one endurance race each year. If a COA following a race discovers Nacoa through my cycling efforts, then that will be a bigger victory than a podium finish.