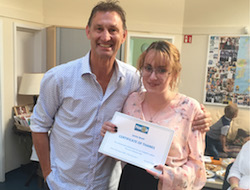 Regular helpline volunteer, Jamie Brett, has been awarded a 2018 Community Hero run by the national charity The Giving Machine.
The Community Hero Award is a national initiative seeking to celebrate 'unsung heroes out there doing amazing things in their community. People who make a difference to their community and always go that extra mile to help others.'
In 2017, Jamie was also awarded the Nacoa 'Maya Parker Award' for outstanding voluntary service to the helpline. She has given over 400 hours as a volunteer to provide vital support to children affected by their parent's drinking.
Recently she has also begun the training to become a Nacoa volunteer speaker, providing talks and group sessions raising awareness of COAs in schools and youth centres.
If you would like to become a helpline volunteer, contact Nacoa on admin@nacoa.org.uk or phone us on 0117 9248005.