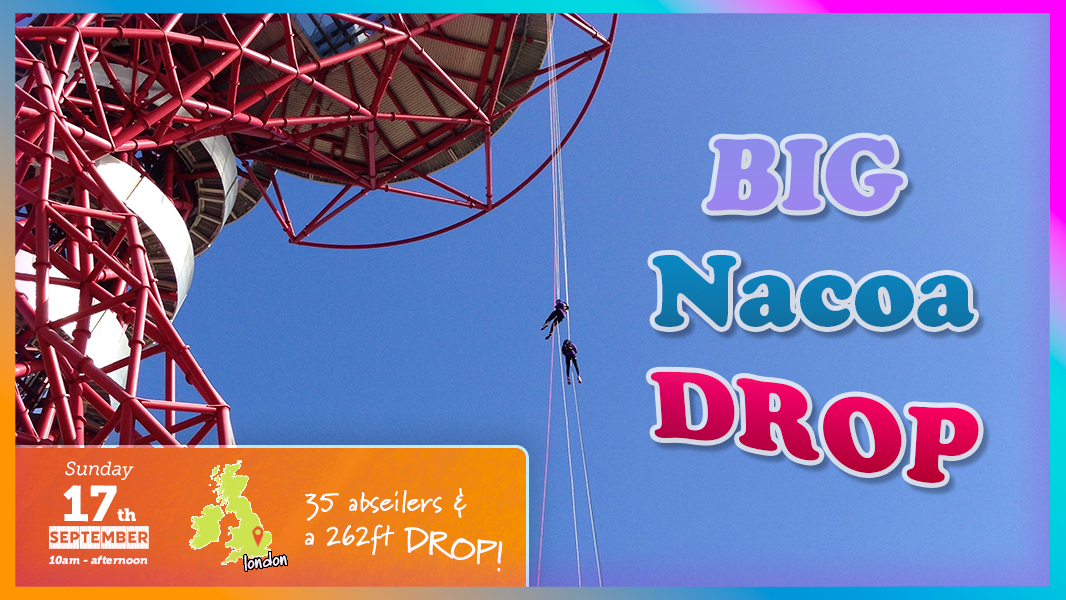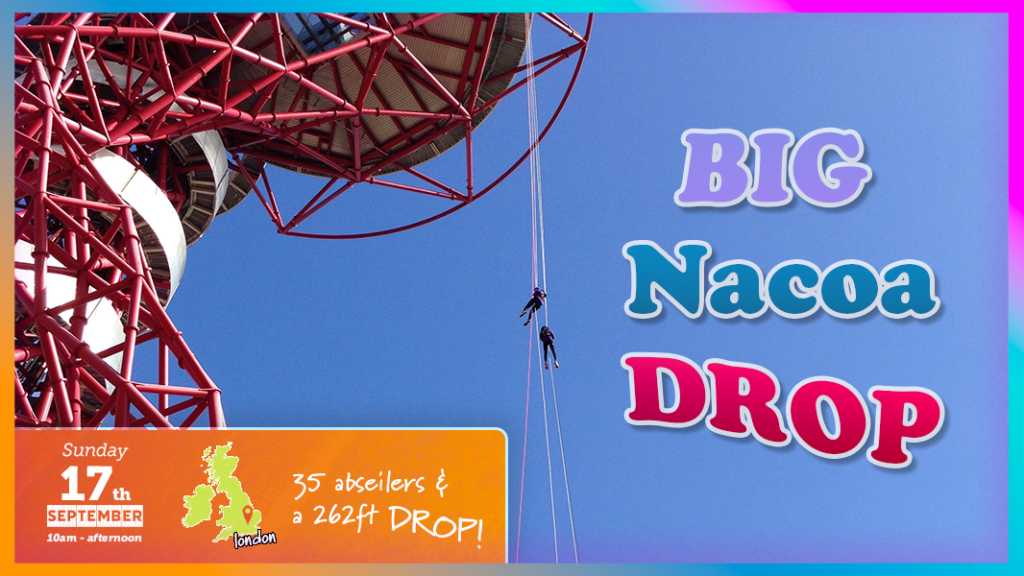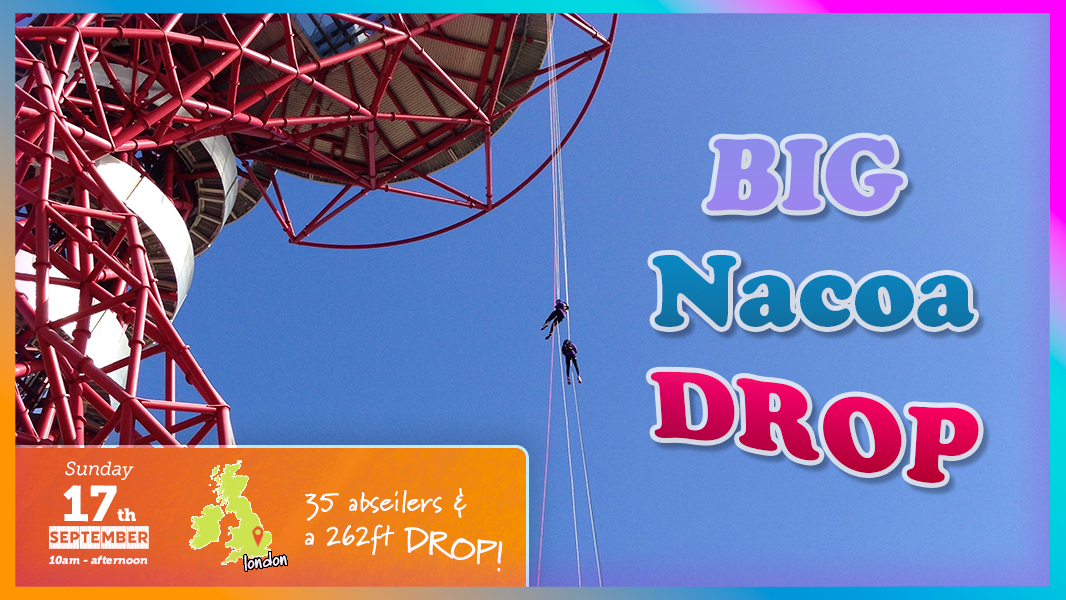 Announcing the Big Nacoa Drop!
Sunday 17 September 2023 – London, UK
Would you 'take the drop' to support children affected by a parent's drinking? We have the perfect thing for you.
Nacoa is proud announce our 'Big Nacoa Drop'. Spaces are now available to abseil down the London Orbit, a 262 foot descent!
35 places are available for this Nacoa only session. It will be a wonderful opportunity to raise funds and meet fellow Nacoa supporters!
It's a fantastic, family friendly way to raise funds for Nacoa. No experience needed for this big thrill sponsored event!.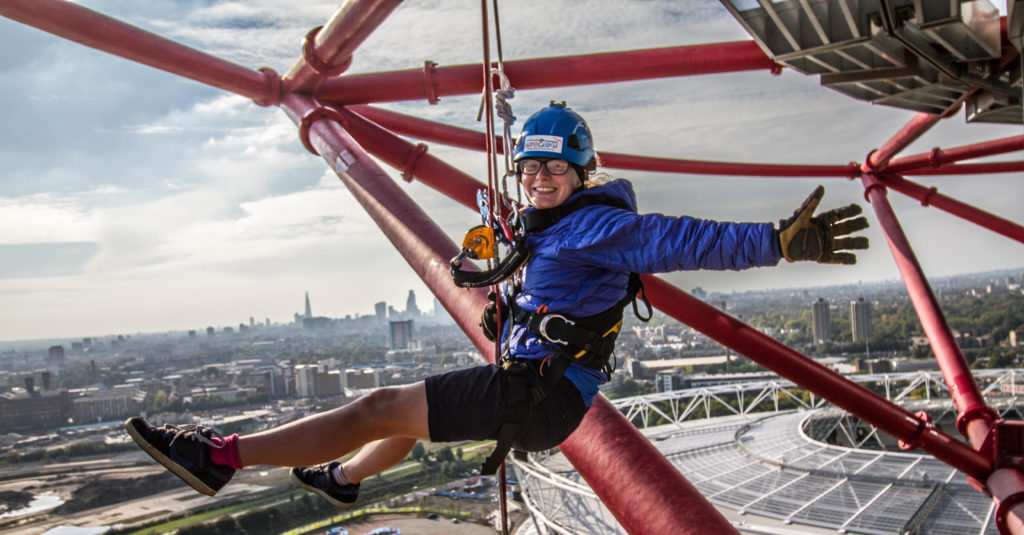 What is the London Orbital Abseil?
Experience the most spectacular views of London, whilst dangling in free space, 80 metres above the ground!
Abseiling down the ArcelorMittal Orbit will be an experience you will never forget.
Our abseil instructors will look after you every step of the way. They will kit you up and look after every aspect of your safety.
Using the safest rigging system conceivable, they will coax you over the edge and on your way to a truly breathtaking experience.
Make sure you savour those moments. They are truly incredible!
What do I need to know?
In order to take one a place, you will need to commit to:
Taking the drop on the designated day
Pay the non-refundable payment (payable to Nacoa), per person:
Aim to raise £150 for Nacoa in sponsorship, from each abseiler
Abseilers do not need experience, but must be:
14 years or older (with parental consent for under 18's and supervision at a 1:2 ratio)
A minimum height of 1.2 m
A weight of less than 19 stone (120kg).
Able to wear a harness which has a maximum width waist of [130cm] and a maximum upper thigh width of [75cm] which are the maximum measurements of our harnesses.
Must arrive ready by at least 945am.
Event is managed by accredited organisers Wire and Sky.
Sign me up!
Get your place by booking today
If you have any questions, please get in touch with us at admin@nacoa.org.uk. Can't wait to start this journey with you!
How do I become a Nacoa Member?
Membership costs just £25 per annum or £3 a month.
You get
A Nacoa t-shirt
Regular members' socials with themed talks and a chance to share and find out more
A voice in Nacoa – get a vote at the Annual General Meeting and possibility to become a Trustee
Invitations to events: including the annual Stafford Ward Memorial Lecture at the House of Commons and our Awards Evenings
Regular newsletters and updates
Discounts on Nacoa events
To become a member to acquire discount on the Big Nacoa Drop, just sign up as a Member first, then pay the event fee selecting the Member's rate.
Become a Member here.
Contact us with any queries.