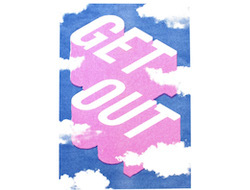 We are delighted to bring to you a line of art prints by Front Row and Chariso Press raising funds and awareness for children affected by a parent's drinking.
Three fantastic prints have been designed for Nacoa: 'Get Out', 'King of Spirits', and 'Breathe'. Each piece is different but joined by with a shared brief of 'walking and talking' and getting outside in tough situations.
You can buy yours for the bargain price of £10 at CharisoPress.com or by clicking here.
Martin Boath, the man who dreamed up the project said that for him 'the connection was pretty evident. I had a less than perfect childhood as a result of parental alcoholism, resulting in the death of my mother aged 53, when I was 24. Getting out of the house when I was a teenager was very important to me.'
'My print is called "Get out", a collaboration with my colleague Andrew Bell. We wanted something simple, open to interpretation (we liked the idea of someone hanging a print saying "get out" right where guests may see upon their arrival!), but ultimately lovely looking. We want to sell as many as we can!'
Prints of three designs are up for sale, each donating all profits to the Nacoa helpline. Browse between them on the website to read (and hear!) about the unique stories that made them.