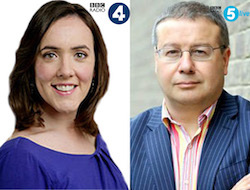 One of the achievements we are most proud of in recent years is Nacoa's role in rapidly increasing the public awareness and media coverage for children affected by their parent's drinking. Working with newspapers, TV and radio, Nacoa volunteers are often out in force on the airwaves shining a light on what it's like growing up in a home where one or more parent's drink too much.
Recently, we have worked closely on two new radio documentaries, which were broadcast within two weeks of each other: 'The Monster Downstairs' and '5 Live Investigates: Adult Children of Alcoholics.'
BBC Radio 4: The Monster Downstairs
The Monster Downstairs explores 'what it is like growing up with an alcoholic parent'. Presented by Daily Telegraph associate editor Camilla Tominey, 'she has longed to travel back in time and ask her, mother to mother: "What made you start drinking before noon?" Here, she and her two brothers sit down for the first time in twenty years to talk about their memories.
As well as featuring an interview with Nacoa CEO Hilary Henriques and visit to the Nacoa offices, 'the Monster Downstairs features intimate, wrenching stories – of young people and adults – as they talk about an unpredictable existence.'
The programme is available to stream by clicking here and has recently been published as a BBC 'Seriously' podcast here.
This documentary is incredibly powerful, sensitive, and informed. Not just that, it picks up on certain details (estrangement, self-blame, hyper-vigilance, and the power of human contact through stories) that have rarely been discussed up in similar docs in the past. It's a 5* must listen!
BBC Radio 5: 5 Live Investigates
This fantastic show came about when BBC 5 Live's Steven Hobson found out that calls to the Nacoa helpline have tripled in five years. Nacoa now receives in excess of 22,000 request for help from adult children of alcoholics every year:
'I try not to call him. I'll wait for him to call because he tends not to call me when he's drunk. He drinks most of the time – a bottle of vodka a day.' Maria is 25, the daughter of an alcoholic and one of a growing number of young adults who has a parent who's a problem drinker.
'The National Association for the Children of Alcoholics has told 5 Live Investigates that the number of grown-up children contacting them for help about a parent's excessive drinking now makes up 80 per cent of their work – compared to half that five years ago. The charity says more and more parents are becoming problem drinkers in later life. But Liam Byrne MP, chair of the All Party Parliamentary Group for Children of Alcoholics, tells the programme that alcohol and drug treatment services have been cut all over the country.'
This is another tremendously moving programme featuring multiple heart-breaking stories and inspiring tales of how people help. Again, it features extended conversations with Nacoa CEO, Hilary Henriques, who speaks with an authority on children of alcohol-dependents like no other.
You can find stream or download the programme as a podcast by clicking here.
In recent years, the Nacoa helpline has seen a huge increase in requests for help from adults affected by their parent's drinking. We now receive over 20k calls per year from 18+s!

Here's Nacoa trustee @katetoj on what it's like being an ACOA. https://t.co/djPOgIaTG2

— Nacoa (@NacoaUK) April 12, 2019