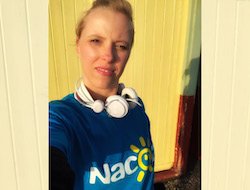 It is a great pleasure to announce that, in recognition of her major contribution to awareness raising for COAs, long term volunteer and supporter Ceri Walker has been appointed as a Nacoa Ambassador.
Nacoa Ambassadors are recognised volunteers with extensive experience in national awareness raising for children affected by their parent's drinking, occupying a leading role within Nacoa's growing base of vocal support.
Ceri is a multi-award winning film maker (including films below) about growing up in the shadow of a parent's alcoholism. Her clothing brand Dreaming of Eden raised funds and awareness for Nacoa through her bespoke 'Going My Own Way' designs. She is also an award winning writer, and has appeared in various magazines and radio programmes to share her heart-breaking story.
Ceri has raised funds for Nacoa by organising a 'Million Steps' challenge completed by an inspiring a group of COA supporters. In 2019, she ran 64 miles alone in a month, 64 for the age of her mum when she died and alone because that's how children of alcoholics so often feel.
Below are few words from Ceri about why she has devoted her life to help these vulnerable children.
As a child I thought I was the only one with an alcoholic parent, and as an adult I still struggled with issues such as anxiety, low self esteem and feeling different, but in finding Nacoa 5 years ago I've been able to recognise these are all part of being a COA. I began to look at these 'broken bits' with kindness, enabling me to be my true self, just as I am.
My purpose now is to be the voice of COAs, to spread the word to children and adults—you're not alone, it's not your fault, and it's okay to get support when you feel ready. I want to help the little versions of me struggling on their own. It was difficult to share at first but I know others hearing my journey can have such an impact, and its where my passion lies.
Becoming an Ambassador is probably the greatest achievement I could hope for, they are my tribe and the only people who I feel truly understand me, and have helped me to finally start to believe in myself, and to be the best legacy of my much missed Mum that I can be.
"I want to help children struggling on their own" Ceri Walker