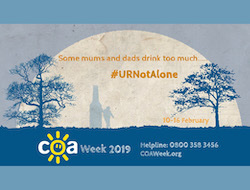 #COAWeek2019 has come to a close, but, at Nacoa, activity is still in full-flow. The tenth #COAWeek saw the largest ever engagement in communities all over the globe. Cake evenings, lectures, talks in schools, sand art on Maple Beach India, and a mammoth effort in the TV and radio media all raised awareness for the hidden experiences of children affected by their parent's drinking.
Since last Sunday, we have been inundated with support from people affected, of all ages, and those concerned for their welfare. We have seen the most amazing outpouring of support for COAs over social media, and previously unseen levels of understanding in the written press and public conversation at large.
This year we have seen awareness activities from organisations in the USA, Ireland, India, Slovenia, Switzerland and Germany. Friends at countless UK organisations—such as the Children's Society, Alcohol Change, Institute for Alcohol Studies, Drink Wise Age Well, NICE, and Oasis Brighton—took to the media show how they support children of alcoholics.
We also used this special moment to celebrate wonderful new writing exploring the experiences of children affected by their parent's drinking. Notably we celebrated and shared from a spellbinding new book 'Will You Catch Me' by Nacoa volunteer Jane Elson. Thanks to supporters at Howes and Hodder publishers, we were granted permission to share wonderful audio clips from Elson's COA children's novel.
As ever, our inspiring legion of volunteers make this all possible. A special mention goes to the irrepressible COA campaigner, Josh Connolly, who drove all over the country sharing the work of Nacoa. His Nacoa affiliated online community blog (a special place for people to publish their experiences as COAs), COAisathing, provided the basis for countless conversations for people and families affected.
Perhaps the most striking aspect of this year's #COAWeek was the David Stafford Memorial Lecture held at the House of Commons in London. Such was the demand that we had to book the 'Gladstone Room'; COAs filled, for the first time in history, the largest committee room in the Houses of Parliament. We heard wonderful speeches from a host of Nacoa patrons and supporters, Tony Adams MBE, Jonathan Ashworth MP, Calum Best, Liam Byrne MP, and Hilary Henriques MBE. The full video can be found by clicking here, or scrolling below.
Here below we share with you some highlights from #COAWeek2019. Starting out with a glowingly beautiful film exclusively made for #COAWeek by Nacoa supporters Ceri Walker and Witness BTN.
It's #COAWeek2019 —time to draw light to the experiences of millions of children around the world affected by their parent's drinking.
Join us to make this the biggest #COAWeek yet and help people know they're not alone. https://t.co/0c0Ph9n3C5 pic.twitter.com/AocSEGO1ib

— Nacoa (@NacoaUK) February 10, 2019
https://platform.twitter.com/widgets.js
'Now to check on Mum..Panic fills me from my head to my toe'

Children affected by a parent's drinking often end up becoming the responsible carer as mum or dad lose control of their drinking.

As for Nell in #WillYouCatchMe, you are not alone! #COAWeek2019 @WFHowes @JaneElson pic.twitter.com/1E5QYi5KCK

— Nacoa (@NacoaUK) February 16, 2019
https://platform.twitter.com/widgets.js
Big thanks to Martin and Shaun and their star bakers for raising over £200 selling these beautiful cakes to colleagues and customers at Braintree Swmming and Fitness to help children affected by parents' alcohol problems #COAWeek2019 @Fusion_LS @BraintreeDC @JamesCleverly pic.twitter.com/ffJ4DazSqV

— Nacoa (@NacoaUK) February 16, 2019
https://platform.twitter.com/widgets.js
Children of Alcoholics Awareness Week: 'I will always be the child of an alcoholic' ⁦@NacoaUK⁩ https://t.co/sjGUxD1EFG

— Secret Drug Addict (@ScrtDrugAddict) February 13, 2019
https://platform.twitter.com/widgets.js
Great to meet up with @LeicesterTeaGuy he's going to run 1000 miles this year for @NacoaUK – what an inspiration, please support him! #COAWeek2019 pic.twitter.com/teEU6H4JUn

— Jonathan Ashworth (@JonAshworth) February 15, 2019
https://platform.twitter.com/widgets.js
'Tonight we've packed the biggest room in Parliament. Children affected by parent's drinking have been heard.' – Hilary Henriques @NacoaUK CEO

Spell-binding evening of experiences from @JonAshworth @LiamByrneMP @CalumBest & @TonyAdams. We've come so far. With miles to share. pic.twitter.com/csxMtnmTCa

— Nacoa (@NacoaUK) February 14, 2019
https://platform.twitter.com/widgets.js
One misconception is that moving away from the alcoholic means everything is fine and is over when that's far from true. If anything now I feel worse, constantly going over things in my head thinking about the loss of a mum who is still alive. Lost to alcohol. @NacoaUK #coaweek

— LivHodson (@olivia_hodson) February 14, 2019
https://platform.twitter.com/widgets.js
#COAWeek is celebrated every year when #ValentineDay falls.

We're still loving our charity single #AChangeIsGonnaCome by @macushlah @DartBird from 2011. #ThrowbackThursday #COAWeek2019

If you're affected by a parent's drinking, #URNotAlone. Call Nacoa: 0800 358 3456. pic.twitter.com/cByDVhqWsL

— Nacoa (@NacoaUK) February 14, 2019
https://platform.twitter.com/widgets.js
Ahead of @NACOAUK big event for Children of Alcoholics @houseofcommons tomorrow – here's a little look back at the campaign #ChangeIsComing #IAmCOA #WinterOfCompassion pic.twitter.com/EiLEdYJqtA

— Liam Byrne (@LiamByrneMP) February 13, 2019
https://platform.twitter.com/widgets.js
Proud that #COAWeek2019 is our most international #COAWeek ever.

Sharing is happening in Germany @NACOAde, Switzerland, India, Slovenia @NacoaSlovenija and USA @NACoA_USA

With friends like these we'll make a better world for children affected by a parent's drinking. @IOGTInt pic.twitter.com/DI4VNB6Ynd

— Nacoa (@NacoaUK) February 13, 2019
https://platform.twitter.com/widgets.js
We encourage families to use creative forms of expression for difficult feelings that are too overwhelming to articulate.

Our families counsellor Matt has written a blog about expressing yourself through art as part of #COAWeek2019 #COAWeek@NacoaUK https://t.co/ZRUti2tEdd

— Action on Addiction (@ActionAddiction) February 13, 2019
https://platform.twitter.com/widgets.js
'It's really important you express your feelings. You are not betraying her. It wasn't your job to look after your Mum'

At #COAWeek2019 we hear of people's shame of 'betraying' the family. But as @janeelson says, it's vital for COAs to find a trusted place to speak. @wfhowes pic.twitter.com/HZdyaTzONC

— Nacoa (@NacoaUK) February 12, 2019
https://platform.twitter.com/widgets.js
Popped into @DonnyCollege to meet up with Karen Parkinson and Maxine Smith from Parent and Family Support @DN_Child providing info to students at start of #COAWeek2019 #IAmCOA @NacoaUK #doncasterisgreat @mydoncaster pic.twitter.com/yTTGsqINjx

— Caroline Flint (@CarolineFlintMP) February 11, 2019
https://platform.twitter.com/widgets.js
Children of Alcoholics week, run by @NacoaUK, starts today. Throughout the week we'll be sharing stories, factsheets and support for anyone affected by the issues raised. If you think your parent is drinking too much, take a look here: https://t.co/cfm2Hq6cjO #coaweek #urnotalone pic.twitter.com/PC3a4VZMkR

— Alcohol Change UK (@AlcoholChangeUK) February 11, 2019
https://platform.twitter.com/widgets.js
Camilla Tominey shares how her own experience with an alcohol-dependent parent inspired her to campaign for support for children affected by alcohol.@ayeshahazarika | @CamillaTomineyhttps://t.co/tcLIrDH8Ph

— LBC (@LBC) February 10, 2019
https://platform.twitter.com/widgets.js
As the child of an addicted parent, you can make some choices about the best ways to look after yourself and keep yourself safe.
Find ways to understand and cope with your parent's alcohol or drug misuse >> https://t.co/zPka7sYP8i#COAWeek #COAWeek2019

— Children's Society (@childrensociety) February 10, 2019
https://platform.twitter.com/widgets.js
"For every good time I had with my dad, there was a bad time."@CalumBest who is the patron of a charity helping children of alcoholics opens up about his father's addiction.@NacoaUK says there are 2.6m children living with an alcohol-dependent parent: https://t.co/hlqHDQIPgV pic.twitter.com/UWZYqAGr6B

— Sky News (@SkyNews) February 10, 2019
https://platform.twitter.com/widgets.js
T-shirt, posters, leaflets and fitness tracker have arrived ready for my 165 mile walk within a month!

Monday is the first day of #COAweek2019 and I will be starting my personal challenge.
NACOA is an amazing charity who provide children of alcoholics with support when needed. pic.twitter.com/pIvFNWlgzJ

— Ffion Watkins (@FfionWatkins) February 8, 2019