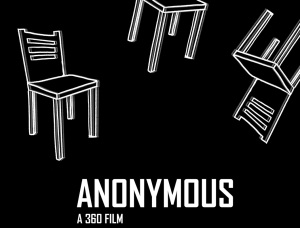 Over the past few years, we have been so proud to see the Nacoa message travelling far and wide. We want to let as many of the 2.6 Million children affected by their parent's drinking in the UK know that they are not alone and Nacoa is here. We couldn't do this without inspiring supporters.
COA campaigner Samantha Kingston is one. She has announced the 2019 release for her new 360 short film project 'Anonymous'. The film will tour the UK later this year, and will doubtless change lives as she spreads awareness of the experiences of children of alcohol-dependent parents.
Here is Samantha's story about how she came to find Nacoa, what it means to her, and how it has translated her experiences into this groundbreaking film.
---
Finding Nacoa & finding my voice
By Samantha Kingston
I have spent most of my life feeling like being a child of an alcoholic was rare was something that you didn't talk about. I didn't know that millions of others had gone through what I had been through. Like most of us, I had kept my relationship with my mum to myself. We hide and protect.
However that changed when my mum passed away last year. Grief tore my world apart and I lost myself in it. In my day to day life, I was a passionate career woman with a voice in the technology sector. But when mum passed I lost my voice.
I had this strong urge to do something positive. Then I found Nacoa. It was almost like it was meant to be. I could not believe that I had never found them before and suddenly I had a new community for my voice. I could do something that would benefit others by raising awareness and taking that first scary step of sharing my story.
I wanted to combine my love for technology and this story and create a 360 short narrative film. Anonymous is just that. A one on one conversation with me, as I address the five stages of grief combined with being a COA. All inside a virtual reality headset.
Virtual Reality and 360 has an incredible power to put you in the shoes of others and transport you to a different time. I have worked in this industry for five years and understand how it can impact people.
I hope that Anonymous will allow me to share my story and raise awareness for other just like me.
I managed to get a bit of funding through crowdfunder to help get this project up and off the ground, but other than that I had to ask a lot of favours and had incredible support from people who believed in me.
Anonymous is going to be available in July 2019. I will be touring the film around the UK. So If you want to see it in your local area please let me know.
Anonymous is allowing me to heal, and hopefully show others that they are not alone.
So unbelievably moved by experiencing @AnonymousChairs for the first time. It's hard to find a more authentic, important, beautiful 360 experience. @K_Samantha1 is one of the bravest people we know.

Discover her story @AnonymousChairs
Check out @NacoaUK pic.twitter.com/MYM0bBglFJ

— Nerd Pirates Develop (@NerdPirates) July 10, 2019