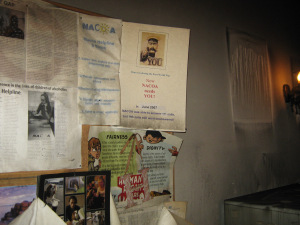 Due to a devastating fire at Nacoa UK, we've been unable to follow through on our plans to organise events to celebrate COA Week 2014.
However, the celebrations continue – the Nacoa Helpline never faltered – seven volunteers continued to respond to cries for help from some of the UK's most vulnerable children, refusing to allow the smoky conditions to get in the way of their caring compassion.
Not one call went unanswered and even though we've experienced extensive and on-going problems with IT, the helpline email was restored as a priority with the help of many of our volunteers and friends.
Like the Phoenix rising from the ashes, Nacoa continues to put the welfare of children of alcoholics at the heart of all we do. And we always will.
Come celebrate COA Week with us on Facebook and Twitter. We will be sharing daily help and advice and highlighting the vital difference a listening and caring ear can make by sharing the experiences of some our amazing helpline volunteers. So up first is Sue's story.
Some quotes from members and callers:
"God darn it. Why does it happen to the best of things? I have a lot of free time off college, I would be happy to help if there if there was anything I could do! I can't believe it" Jacob (16)
"Such an unfair thing is getting in the way of a charity only trying to good for people. Okay, if it would help I would be happy to come in" Jacob (16)
"Firstly, I am very sorry to hear about the situation which Nacoa UK has been facing. I hope that you will be able to quickly recover from the damages. We send our best wishes and greetings to your whole team and heart-driven volunteers". Vasilika Laveska (Active Europe)
"Thank you for letting me know. Sorry to hear the unfortunate news re the fire. If there is anything I can do to help prior to the training starting don't hesitate to contact me." Olivia (potential volunteer)
"I could not believe when I heard, such an unfortunate event! I know that everyone who works and volunteers will be able to come out of this situation and make this amazing charity begin running again like it was! I am so grateful for everything that you have done for my family and believe that my dad's role in Nacoa was a big reason for his recovery!" Jacob (16)
"Thanks for your email and I'm so sorry to hear about the fire – that's terrible. I hope you can get things back to normal again soon" Gabriella (journalist)