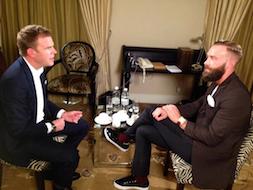 Nacoa Patron Calum Best talks about growing up with his dad's drinking and his own battle with alcohol in a searingly honest TV interview.
The Channel 5 News interview with Matt Barbet forms part of a special series on alcohol called Britain Over the Limit.
Calum talked openly about his visits to the UK to see his dad, footballing legend George Best.
"I'd come over at 15 and I'd be thrilled to see him. He'd be at the airport. I'd run 'dad, how are ya?' We'd go straight to the pub and I'd spend my next two weeks there."
Alcohol was always there and over time, George's drinking took its toll on his health. At the hospital for a liver transplant, Calum remembers his dad telling him 'It's going to be different' "and you think to yourself, ah this is where it's all going to change. I thought this was going to be the beginning of a new chapter…" but sadly George's sobriety didn't last.
After his father's death in 2005, Calum became depressed and turned to alcohol to cope . "I was lost and I was in such a dark place. It was for me the hope and dreams of all my youth. He was my everything. I lost him and I lost all hope."
Calum feels he has turned his life around over the last few years and wants to help others in similar situations know they are not alone.
"It's a hard one to figure out what to do when you have a relative that's alcohol-dependent. But there is help, there are places to call, there are people to talk to. And talking I think is key."
Watch the interview now (and you can also find out the story behind Calum's big beard!)
Read more on the Channel 5 website.