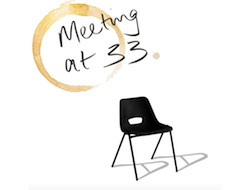 The fantastic hit Edinburgh show from 2017, Meeting at 33, will return to the stage next month at the Brighton Fringe Festival.
Inspired by Hannah Samuels experiences with her mum's problems with drink, the show was created using anonymous interviews with real people suffering with addiction. The show opens a window to experience an alcohol recovery meeting in a unique immersive space.
In 2017, Nacoa was delighted to be associated with Meeting at 33, which was planned by the world famous Pleasance Theatre. We were even more delighted that the show received a host of five star reviews by bringing audiences up close and personal with the atmosphere and story telling of the recovery meeting.
Bringing these breathtaking moments of personal drama to the stage will help to break down stigma and help us to speak properly about alcoholism. The show's director, Hannah Samuels, says that: 'For me, the fact we succeeded in providing a safe space for people to reach out and be honest was an incredibly grounding.
'As a COA, putting my mum's own battle with alcoholism at the forefront of the work, has enabled me to connect with many other people and families who are suffering, which has been hugely cathartic. With the help of Nacoa, we can continue to break the silence and the stigma surrounding alcoholism!'
The show will be running between 12-13th May 2018 at St Mary's Church, Brighton. To purchase tickets (£10/8), please head to www.brightonfringe.org/whats-on/meeting-at-33-125146
---
Follow Second Circle's Twitter page @SecondCircle_.
The following hour, drawn from anonymous ­interviews with addicts, is a ­plain-­spoken and humanely presented account of what takes place between the ­plastic chairs. New Scotsman

Has drama to help keep you on the edge of your plastic seats. Fringe Review

Meeting at 33 is a touching hour, conveyed with wholehearted honesty, and is certainly one of the most confronting pieces of verbatim theatre at the Fringe. Edinburgh Festival Magazine