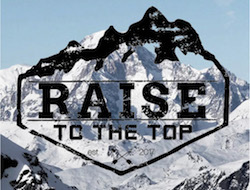 This July, Calum Best and Bianca Gascoigne will lead a host of celebrities in a 'Raise to the Top' sponsored trek up Mont Blanc in aid of Nacoa.
Braving the hike with them, to draw attention to the struggles faced by children of alcoholics, will be Angie Best, Jamie O'Hara and David McIntosh.
To raise a staggering target of £20,000 they are setting their eyes on the highest peak in Europe, Mont Blanc. The British team is combining with a Danish team of celebrities and entrepreneurs in what will be a gruelling multi-day trip.
After the first few days walking, climbing and hiking to acclimatise to the high altitude conditions those deemed ready according to the guides' judgement will head for the mountain's summit over the final two days.
The stars will upload images and behind the scenes footage to document their amazing adventure for everyone to follow. You can join in with the action by following their progress on social media and at www.raisetothetop.co.uk.
To show your support and leave a message for our amazing celebs, visit their fundraising page www.justgiving.com/fundraising/raisetothetop
For enquiries or media interviews, please contact Nikki Clarke on nclarke@reputationpr.co.uk.
Morning . Proudly wearing and supporting my Patron charity for the past 11 yrs @NacoaUK 'National association for children of Alcoholics ' . A miscellaneous phone line for children or relatives of alcoholics to call for help or advice , and so much more. Please show them support pic.twitter.com/FgfV31WDo8

— Calum Best Official (@CalumBest) April 26, 2018