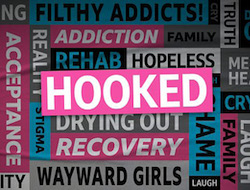 Nacoa volunteer and ambassador Josh Connolly was invited as a guest on the latest BBC Hooked podcast. In a wide-ranging conversation with presenters Melissa Rice and Jade Wye, there are some amazing insights are made about what it is like growing up with a parent who drinks too much.
The programme covers the fears children feel, and the compassion they instinctively feel for a parent whose behaviour may be changed by their relationship with drink or drugs. And then the way that the cycle can continue into adult life.
Overall, this is a programme that instils much hope. While many will relate with the painful stories recounted in the piece, there is also a great deal of positive and potentially life-changing advice.
With great thanks to Hooked, we are very proud to present this podcast. You can download or listen to the episode here.
If you are affected by any of the topics covered, please know that you are not alone and Nacoa is here for you.
Our helpline is confidential and free. You can contact us by calling 0800 358 3456 or email on helpline@nacoa.org.uk.