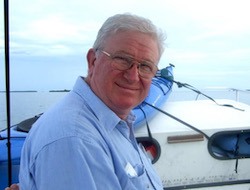 It is with great sadness that we announce that Nacoa's Chair of Trustees, John Fenston, has passed away. Though it is also with huge gratitude that we are looking back on John's life and his heroic work for Nacoa.
John became a Nacoa trustee in 1995 and took over as Chair of Trustees when our co-founder, David Stafford, died suddenly in 1997. As ever, he was a cool head in a crisis. His stepping into the breech cemented an association and friendship. It is hard to remember or imagine Nacoa without John.
John understood the value of 'being', being here just in case someone needs help, providing that help freely, without judgement, with understanding and compassion. He had the habit of believing in people before they were able to believe in themselves.
John was a skilled and empathic orator. We say orator because the word 'trainer' doesn't cut it. When he spoke, it was from the heart and with such integrity that volunteer helpline trainees listened and understood from the inside how it feels to be brought up by parents who drink too much.
Nacoa devised a training session 'what alcohol does to the brain: the science and the experience', and John provided the experience and Dr Peter Taberner the science. Dr Taberner said of John:
John really did express the essential spirit of Nacoa. Over the years when we did our double act on the volunteer training evenings he was unfailingly-understanding which, together with his modesty and self-awareness, provided such valuable insights into the condition of alcohol dependence. He is truly irreplaceable. I can say that he was one of the most genuine people I ever had the privilege to meet throughout my career.

Dr Peter Taberner
We made friends with people like Jerry Moe, from Nacoa USA, who progressed the charity's learning in leaps and bounds. Jerry writes of John:
I am so sorry for our loss. I love John Fenston.

He was an extraordinary man. He selflessly served Nacoa UK for over 25 years. During those special times I spent with John, his joyful spirit was always alive and bright.
John was full of enthusiasm and jollity – one laughed a lot with John. But it was also through providing kind help, encouragement and understanding that John knew children who are isolated and alone ask for help.
Under his Chairmanship, the number of calls and emails to the Nacoa are impressive: over 500K helpline requests. John wasn't interested in statistics, though, knowing in the moment one has directly helped a child is always enough.
Working long term with vulnerable children can take an emotional toll and at times of need John was a tower of strength, hope and kindness in good times and bad.
John's passion and desire to help children affected by their parent's drinking will live on. He leaves an incredible legacy where many more of the 2.6M children in the UK living with parents who drink too much now know about Nacoa and have access to help and understanding.
John Fenston was an amazing human being – he had many skills, talents and gifts, he was unendingly kind, compassionate and caring and a warrior when you needed him to be.
We feel honoured and privileged to have known him and to call him our friend and colleague. Our world, the world of people around Nacoa, is forever enhanced by John.
Thank you to his beloved Batty, Tashy and Max for sharing him with us.