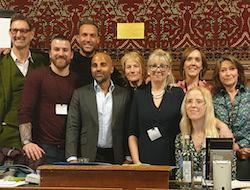 By Lindsay Doherty.
I became a volunteer helpline counsellor for Nacoa last year after reading an article online about one of their patrons, Calum Best, who climbed Mont Blanc in 2018 as a fundraiser. Having lost my own father when I was aged 19 to alcoholism, I hadn't been aware of the Bristol based charity but was keen to do whatever I could to help them.
Nacoa are celebrating their 30th anniversary this year, and in that time the helpline has responded to over 375,000 calls. Nacoa CEO, Hilary Henriques MBE, co-founded the charity in 1990 whilst working at St Joseph's Centre for Addiction in Surrey where she championed the need to address addiction as a family illness.
On the 12th February 2020 I attended Nacoa's Annual Lecture, held at the House of Commons in London, in memory of one of their founding members David Stafford.
The lecture was very well attended and there were several speakers, including some of Nacoa's patrons, and it was incredibly powerful to hear their stories – talking so openly and honestly about the difficulties they've faced growing up with an alcoholic parent, all with the purpose of giving others hope and delivering the important message 'you are not alone'.
One of Nacoa's helpline volunteers, Ceri Walker, shared with us how her Mum's addiction had begun in 1986 when Ceri was 4 yrs old, how she had cared for her during this time – feeling completely alone and like it was her job in life to 'fix her' and her mother's subsequent death from liver cirrhosis at age 47 – sadly just at the point her Mum acknowledged the problem and had sought medical treatment.
The impact of this is still felt today – Ceri, in her own words, suffers from 'crippling anxiety', but she spoke bravely about the life changing experience of finding Nacoa and the importance of stepping out of her comfort zone in order to help others.
MP Jonathan Ashworth, Labour Shadow Secretary of State for Health, then went on to briefly touch upon his father's alcoholism and how this had clearly impacted on his life. John highlighted the fact that numerous addictions are becoming more prevalent and that more people than ever are dying from addiction related issues.
Jonathan said he didn't know where to turn to as a child and highlighted the importance of talking, in that every time you speak out it offers comfort to someone and can potentially save a life. John is a strong supporter of Nacoa, to date he has raised over £21k for Nacoa running the London Marathon, and he said supporting those with an addiction problem and their families will always remain a priority for him.
Camilla Tominey, Associate Editor of the Telegraph, spoke to us about resilience, and the flashbacks she sometimes experiences of her uncertain childhood due to her mother's alcoholism when she looks at her own daughter. Camila spoke of our society where alcohol seems to be the 'default setting', her dislike of the casualisation of binge drinking and a need to change the narrative from 'this is just what the British do'. Camilla ended by saying that problem drinking touches every person, not just the children of alcoholics.
Calum Best, TV personality and son of footballer George Best, spoke briefly about how Nacoa had helped him to find a passion and a purpose and thanked Nacoa for his time as a patron for the last 13 years.
David Coldwell, Boxing Manager/Coach and Analyst for Sky Sports, courageously spoke for the first time at such an event. He told the story of how he had recently given a tv interview and happened to mention that he had 'a bad time at home' when asked why he got into boxing – after being questioned further he opened up about his parent's alcoholism for the first time.
David spoke a bit about his experience as a child and recalled a story – his mother going away to visit family and him being asked to look after his father. He couldn't understand why he stayed in bed all the time but by chance spotted a vast amount of whiskey bottles hidden under his bed. Sadly, when David's mother returned home, he was beaten for not looking after his Dad.
David said that after his tv interview he received an unbelievable response on social media, from adults sharing their own stories to children saying he had given them hope.
Geraldine James OBE, theatre, television and film actor, then went on to tell us she was in her 50's before she told anyone about her mum's drinking and the relief she felt to finally speak out. She learned the 'art of pretending' as a child, and despite her privileged upbringing the difficulties she faced living with her family 'secret'.
She spoke of a couple of frightening situations – once when her mother had confronted her with a knife and another when she had fallen, and Geraldine had come home to discover her completely covered in blood fearing the worst. Geraldine said that she finds it hard to talk about herself and chose the acting profession as it allows her to take on the persona of others. Geraldine mentioned one of her coping mechanisms was a 'non reaction' to obvious danger, a learned behaviour from her childhood.
In closing, Cherie Lunghi, theatre, television and film actor, read some passages from 'Jaspers Wish' a childrens book written by Dr Jessica Munafo and published especially for Nacoa.
After returning from the lecture, I spent some time thinking about the stories I'd heard. Nacoa aims to break the cycle of secrecy and shame and I think this also applies to many other areas of mental health. Talking is important – whether that's supporting someone else or like the speakers at the lecture, having the bravery to speak up about something you're finding difficult.