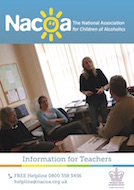 With the continuing financial help of The Vintners' Foundation, our new booklet 'Information for Teachers' reaches out through teaching staff to the 1 in 5 children in the UK affected by a parent's drinking.
The booklet looks at identifying these children in the classroom, how alcohol affects the family, frequently experienced issues, breaking the cycle and guidelines for teachers.
Children struggling with their parent's alcohol problems should not suffer alone and in fear. We are a resource for pupils and teachers offering free and confidential help and support (see the Nacoa Promise), including talks and presentations in schools.
All our leaflets, posters and other materials can be downloaded in publications.