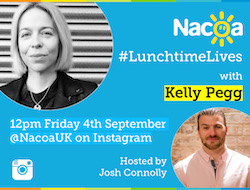 In this series of Lunchtime Lives, we meet with people who have changed the lives of children of alcohol-dependents through their own advocacy and heroism. And in this episode we will meet Kelly Pegg.
Join us on the @NacoaUK Instagram 12pm tomorrow to watch live and join in the conversation with Kelly and Josh.
We'll discuss Kelly's Mum's battle with alcohol and how it claimed her life. And think about how her experiences influenced adult life and decision to go completely sober.