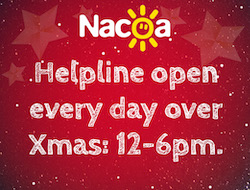 For most people across the UK, the holiday season is a time for coming together as a family and celebrating the turning of another year. However, for children living in a home where addiction is a problem, Christmas can be a time of real concern and fear.
Nacoa's helpline will be open every day over Christmas, and we are here for anybody feeling worried or suffering with issues emerging from parental alcoholism or a similar addictive problem. We receive calls from people of all ages and walks of life. Callers can remain anonymous and all contact is dealt with confidentially. You can trust us not to discuss anything you say with anybody outside of Nacoa's trained team.
If you would prefer not to call us, but would like to speak with one of our trained volunteers, we are available via email on helpline@nacoa.org.uk. You can email or post on the message boards at any time of the day, any day of the week.
Our telephone helpline will be open and manned by helpline counsellors every day over Christmas and New Year, between 12-6 pm.
0800 358 3456
helpline@nacoa.org.uk
We hope you have a happy holiday period and a peaceful 2020!