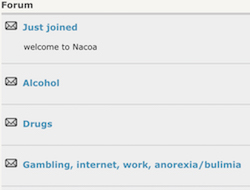 Nacoa is delighted to unveil its new message board service as an additional platform for us to support people dealing with parental alcohol problems or a similar addictive issue. Helpline users will now be able to log in to a moderated discussion space to share experiences and talk to others in similar situations.
It couldn't be simpler to create an account and log in. Just go to the Nacoa Online Message Boards, and click login to create your account. Once logged in, you can read previous threads on specific and general topics, comment and offer support, and create new discussions.
Growing the Nacoa community, our users can reply to other posts and be that supportive listening ear for each other that we all need at difficult times. All posts will be treated with anonymity and will be carefully moderated by trained helpline volunteers.
The message boards have kindly been passed to Nacoa from Children of Addicted Parents (COAP). COAP was created in 2006 to help establish connections between young people, mutually affected by parental and family drug and alcohol abuse, and other addictions such as gambling. We are delighted to continue their service and incorporate the forums into our own growing service.
The new home for COAP's online community and message boards does sadly mean that COAP will close and its website will no longer be available. We want to say a big heartfelt thank you to each and every one of its passionate contributors for making the forum the special place it has become. We are honoured to be continuing their great work.
COAP founder, Emma Spiegler, expressed her satisfaction that the message boards' 'new home' will be at Nacoa: 'Our message boards will continue to be open at Nacoa and available 24/7 on the Nacoa website—just like it has been on COAP.'
Users transferred from COAP can expect a very similar service from Nacoa, and all previous messages will be transferred over to our new page (over 6,000 messages). Previous and current accounts remain active, and information and identities will be protected and kept anonymous in line with the Nacoa Promise.
COAP volunteers have already become part of the Nacoa fold, and Giselle Mannering—schools speaker and mentor—this week announced her sponsored 'survival' event to raise funds for Nacoa. She is braving Dartmoor for 24 gruelling hours to raise awareness and support for our users. To donate, please visit her JustGiving page and leave her a supportive message.
Volunteer and fundraiser, Jade Bailey, will also soon be announcing her activities and fundraising campaigns for Nacoa. To hear her inspiring story and how this work has impacted her life, please view her Facebook Live video by clicking here.
Nacoa is very much looking forward to hearing from our callers on the message boards, and expanding our community of writers and awareness raisers in this versatile online medium.