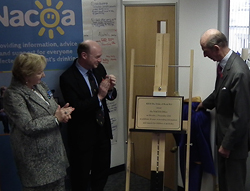 On 7 November, we had the pleasure of welcoming His Royal Highness The Duke of Kent to Nacoa, shining a light on the problems faced by children of alcoholics. The royal visit provided a wonderful opportunity to celebrate 26 years helping some of the UK's most vulnerable children and thank our amazing volunteers past and present.
HRH showed great interest in the experiences of children affected by parental alcohol problems, and took time to speak to our volunteers to gather a better understanding of the issue and how Nacoa's helpline seeks to help.
The charity's strength lies in the hundreds of volunteers who give their time and skills for free, responding to over 300,000 requests for help since its creation in 1990. Ours is a service that is freely given by people who truly care.
Calls are received from children as young as five who find the courage to call or email. Knowing they can remain anonymous can be vital in allowing them to speak out when families may be colluding to keep the problem hidden from the outside world. Our website provides a constant reminder that children are not alone, that others know how it feels to struggle in the shadow of a parent' drinking.
Young people talk about living with unpredictable behaviour, being abused or ignored, witnessing aggression and feeling frightened on a daily basis in their own home, often believing they are to blame for their family's problems.
"I come home from school dreading what I might find. I never bring friend's home – they might see my mum drunk or worse."
Children of parents with alcohol problems are more likely to experience mental health issues, eating problems, trouble with the police, or develop an addiction themselves.
"It's started again, the shouting and screaming.  I lock myself in my room.  I've stopped eating – feeling sick makes me feel I'm alive."
To commend Nacoa's work supporting these young people, HRH unveiled a new plaque and said a few words congratulating Nacoa on its success and thanking our volunteers for their care.
To conclude the ceremony, Nacoa CEO and co-founder, Hilary Henriques MBE, read a message of support from the Archbishop of Canterbury, Justin Welby:
"I want to send my greetings and gratitude for what you do. You are so important because you can be the source of a real community, that merely by existing and accepting, offers the chance of healing and the hope of purpose to people whose lives have been disrupted and diminished by the effect of alcohol abuse in someone whom they love."

Hilary described the HRH's presence as "sending a message to all the young people living in a household with a parent who drinks too much that they are not alone and they are being listened to".