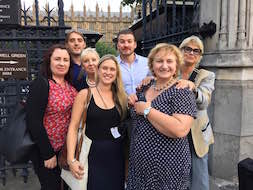 The 15th September saw the first meeting for the All-Party Parliamentary Group on Children of Alcoholics, chaired by Member of Parliament and Nacoa patron, the Right Honourable Liam Byrne.
The meeting took place at the House of Commons and included testimonials from Nacoa patrons, Calum Best and Lauren Booth, as well as Nacoa supporter and television presenter, Kim Woodburn.
Nacoa has been central to the creation of the Parliamentary Group which aims to 'champion the cause of children of dependent and hazardous drinkers'. Its first session brought Nacoa together with other charities and alcohol specialists to collate information for the first ever 'manifesto' for children of alcoholics.
Our Chief Executive and co-founder, Hilary Henriques MBE, presented on behalf of Nacoa and made the case for supporting the nationwide coverage of Nacoa's cost-effective helpline: 'What we've set up is the most accessible and successful service for providing a vital lifeline for the children suffering in silence to every corner of the UK.'
She argued that government could and should do more to provide vital services directly to the children who may feel scared about speaking out and compelled to 'collude to keep the family secret'.
Nacoa volunteer and writer/vlogger on parental alcoholism, Josh (@coaisathing), reflected after the session that while living within the chaos of his alcoholic father, 'I looked around me and did what I thought you wanted me to, and never checked in with my feelings. Despite all the people around me, I was living alone, in pain, with no idea what was wrong with me.'
In his piece, Josh posits that 'I may never have found the courage to confide in a teacher, but upon reading the name National Association for Children of Alcoholics, I would have related instantly. I might have visited the Nacoa website and known IN AN INSTANT that I wasn't alone.'
Liam Byrne hopes that this exposure 'sends a message out to the 1 in 5 children who are children of alcoholics that says this is not your fault, you are not alone, and there is help available to you, like the brilliant Nacoa helpline.'
'What we want to do as MPs today is start work on the first ever manifesto for children of alcoholics. We are calling on people to give us their ideas of what should go in it. We know as children of alcoholics we couldn't change things for our parents, but we can change things for our children.'
If you would like to provide evidence or your experiences on the issues surrounding parental alcoholism, you can do so by simply visiting Liam Byrne's website liambyrne.co.uk/coa