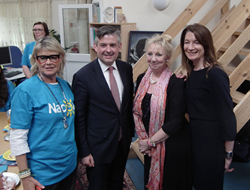 This week, Nacoa welcomed the Shadow Home Secretary, Jonathan Ashworth MP. Taking a break in his busy election schedule, Jonathan visited Nacoa's Bristol offices to lead a discussion on the problems faced by children affected by their parent's drinking.
It also offered a chance to celebrate the success of the All Party Parliamentary Group on Children of Alcoholics and the vital lifeline our helpline phone, email and message board service offers.
Jonathan tweeted, 'Supporting children of alcoholics is a priority for me. Pleasure to visit @NacoaUK today to talk to volunteers & staff'
Alongside a cross-party coalition of MPs, Jonathan has been instrumental in formulating a manifest to change Government policy to support children affected by a parent's drinking, 'The Manifesto for Change'. He recently said: 'Now I've got this job as the Shadow Health Secretary, and by speaking out, I can hopefully change things a little. I can have achieved something and [that will] make it all worthwhile.'
Jonathan recently raised over £7,000 for Nacoa by running the London Marathon. In doing so, he generated much needed funds while raising the profile of our work and the struggles faced by our callers. He said that, 'Every child has the right to a happy childhood and to live a creative and meaningful life but when drink is the family secret they are more likely to experience family violence, neglect and other problems in their own homes.'
Last year, Nacoa received over 32,000 calls from people affected by their parent's drinking. We currently employ only two full time members of staff, but mobilise over 100 active volunteers who answer the phones and deliver talks in schools. Every penny pledged really goes that extra mile!
You can still show your support for our work by sponsoring Jonathan. You can click on this link, or copy and paste it in to your browser:
https://www.justgiving.com/fundraising/Jonathan-Ashworth4?utm_medium=email&utm_source=ExactTarget&utm_campaign=20170401_96877