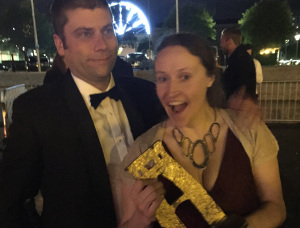 We are proud to announce that, last week, Upfest won Best Event at the inaugural Bristol Life Awards. The festival, Europe's largest urban arts festival, takes place in Bristol every year and is run in collaboration with Nacoa.
Upfest started in 2008 as a small fundraiser at Bristol's Tobacco Factory. It now regularly welcomes 350 artists and over 35,000 visitors to Bristol from all over the world. It has become a regular highlight of the year for Bristol and beyond.
Every year, Nacoa provides over 800 hours of voluntary time to the festival—running children's areas, baking cakes, marshalling sites, selling programmes, and raising funds. So far our volunteers have raised over £60,000 to support the Nacoa Helpline.
Nacoa patron Elle Macpherson tweeted a thanks to the 'fab artists at @Upfest raising money for @NacoaUK I'm such a proud Patron. Go Bristol, love the art!' Calum Best also paid tribute to the volunteers, remembering his 'first Upfest in Bristol years ago with Nacoa, proud to be a patron for them.'
Upfest is not just about money raised, though; it is also about being a part of a community with a common goal to reduce the suffering of some of the most vulnerable children in the UK today.
2016  was a momentous success, continuing the huge growth the festival has enjoyed over the last few years. Without our volunteers, Upfest would not be what it has grown in to today, and reciprocally the festival provides our small charity a large platform to show off the great work we do.
Chief Executive of Nacoa, Hilary Henriques, reflected in a moment out on Monday's 'Family Day' that the huge collaborative effort of our volunteers at 'Upfest is emblematic of the synergy created by our diverse group of amazingly passionate volunteers. Every minute a volunteer donates—whether marshalling, selling or baking—is a gesture of hope for the vulnerable children we aim to support. Every drop of paint helps to brighten the lives of children living in dark circumstances.'
If you would like to volunteer for this year's upset, or would like to invite your colleagues for an away day, please be in touch on admin@nacoa.org.uk. 2017 is set to be bigger and better than ever!