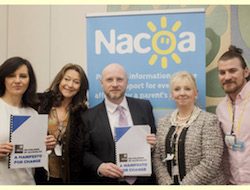 COA Week 2017
This year COA Week took place between 12th and 18th of February, but such was its response from the public, press, and politicians alike, only now in March has Nacoa returned to something resembling the day to day.
COA Week 2017 involved:
Launch of the 'Manifesto for Change': a document produced by the All Party Parliamentary Group on Children of Alcoholics with suggestions to the government to help change the lives of the 2.6 million children living in a household where a parent drinks too much.
Largest ever media push, achieving front page headline news in the Sunday Express, numerous TV features, attention from most national newspapers, and over 30 local radio appearances.
Delivered open letter calling on the United Nations to step up efforts for the problems suffered by children with parents who drink problematically.
Launched our Long Term Helpline Review, authored by Dr Anne-Marie Barron, analysing 15 years of call data from the Nacoa helpline.
Nacoa Online Message Board service officially unveiled.
New publication Information for Professionals published online.
Sharing stories on social media and promoting the #coaweek2017 campaign, which reached over 650 thousand people worldwide.
Promoting events across the world: inspiring global interest and activities from Nacoa US, Nacoa Slovenia, Nacoa Germany, Nacoa Poland, and Children of Alcoholics India.
David Stafford Memorial Lecture
As always, the centrepiece of COA Week was the annual Nacoa event, the David Stafford Memorial Lecture. The lecture series—named in honour of the late Nacoa co-founder David Stafford—provides a regular opportunity for a speaker of note to share their knowledge on a particular area affecting children of alcohol dependent parents with members and guests of Nacoa.
This year's lecture took place at the House of Commons in London and included an august panel of speakers: Hilary Henriques MBE, Liam Byrne MP, Caroline Flint MP, a message from the Archbishop of Canterbury delivered by actress Cherie Lunghi, and concluding with a keynote speech from Nacoa activist and blogger, Josh Connelly.
Josh spoke very movingly about his own personal struggles to deal with his father's drinking problems, and his own subsequent slip into alcoholism in adulthood.
Reflecting on witnessing his father's death and the long term effects this had on him, Josh said that, 'I loved my dad. I never saw him as a bad person. I kind of understood from a very young age, he did bad things and understood that he was ill. But I got the feeling that nobody else did. I got the feeling that society didn't understand that.'
On undertaking the volunteer helpline training with Nacoa, Josh said that the secrecy and shame he had felt his whole life had 'been lifted from me. I finally feel justified in the ways that I feel. Knowing the problem has helped me to change my life.'
Concluding the brave personal talks from Josh and Caroline Flint, whose mother also died tragically early at the hands of alcohol dependency, Liam Byrne announced the launch of the 'Manifesto for Change for Children of Alcoholics.'
Byrne said that: 'This is something that doesn't appear to have been tried before anywhere in the world. Which is the bringing together of children of alcoholics to try and change the world for our kids. That's why this manifesto is so important. It's not the final word, it is the first word.'
The 'Manifesto for Change' has been put to the government and Byrne and fellow MPs are soon to convene meetings with ministers and government departments to speak out for children suffering in silence, with no clear government strategy for support.
At the heart of the Manifesto's suggestions is the notion that no child growing up afraid or ashamed should ever feel stuck with these problems on their own. Whether that point of contact is made via education, awareness raising, or growing the availability of Nacoa's national service, we are hopeful that (as our 2011 music video below urged) 'a change is gonna come'.
If you would like to get involved with Nacoa's activities, or donate to help keep us going, please find the Get Involved area of our website. If you would like to be invited to next year's David Stafford Memorial Lecture, you can become a member for a small annual fee which will entitle you to free automatic invitation.