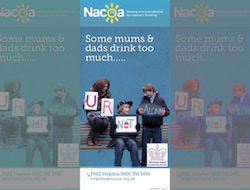 We are very proud to announce that our 'Some Mums and Dads' leaflet has been 'highly commended' by the British Medical Association at the BMA Patient Information Awards 2019.
'Some mums and dads drink too much' is a leaflet that provides vital information and guidance for anyone affected by their parent's drinking, both children and adults.
The BMA said about the leaflet: 'This is a very sensible and relevant resource for younger people struggling in a household where one or more members has a serious alcohol problem. The content is non-judgemental of either the parent or the reader and provides comfort and support with sign posting to how to find further help. This resource is of the right length and complexity for the target audience.'
Nacoa Chief Executive, Hilary Henriques, said that she is delighted to be highly commended by the BMA, and see the problems faced by COAs being recognised as a serious public health matter:
'"Some Mums and Dads" was first thought up almost 30 years ago, when we were creating Nacoa. Its design has changed over the years, but the principles are the same. Every child affected by their parent's drinking should have the opportunity to find out information about parental drinking and find ways to help them themselves.
'I remember one caller who told us that, when things got bad at home, he would keep "Some Mums and Dads" in the back pocket of his jeans so he could hold on to the idea that he wasn't alone. This award is dedicated to young people like him.'
Nacoa provides its leaflets and brochures free of charge for anyone in the UK: individuals, schools, youth centres or doctor's surgeries, for example.
If you would like some 'Some Mums and Dads' leaflets, contact us on admin@nacoa.org.uk.
You can find a full list of our print publications on the Publications page on our website here.