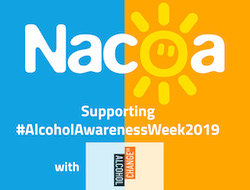 It's #AlcoholAwarenessWeek. The week of the year where we are all encouraged to speak properly about alcohol. This year's theme is 'Alcohol and Me'. It is managed every year by the fantastic charity, Alcohol Change.  Find out more about their Alcohol Awareness Week activities here.
Nacoa will be speaking throughout the week for everyone affected by their parent's drinking. We are delighted to see so many charities now talking about the affect of problem drinking on the family. Though it is still so vital to raise consciousness of those whose parent's are not in recovery and suffer in total silence—those for whom Nacoa's confidential helpline is a vital resource.
We will be updating this page throughout the week with our favourite posts and videos. Keep checking in and supporting us on Twitter, Facebook, and Instagram.
'I often begged her to stop drinking, but those sober hours were precious and I didn't want to spend them constantly pleading with her'.

Heartbreaking piece by Nacoa volunteer Ceri on alcohol and her Mum. #URNotAlone#alcoholawarenessweek #aaw19 #aaw2019https://t.co/lttgaNZwRf

— Nacoa (@NacoaUK) November 10, 2019
100ks of children in the UK live in homes where a parent's alcohol problem is kept secret from the outside world.

The silent strain causes lasting harm. Though they can't speak out for themselves, they deserve a special place in our thoughts this #AlcoholAwarenessWeek. pic.twitter.com/PPlMIyxibk

— Nacoa (@NacoaUK) November 11, 2019
Here is a very special #AlcoholAwarenessWeek video by @josh_ffw with guests about 'How to speak with your kids about alcohol'.

It's warm, real, profound—funny. A must watch. Made in collaboration with friends at @AlcoholChangeUK. Full film: https://t.co/Jcm3EIVILq pic.twitter.com/UMgSL8XmAK

— Nacoa (@NacoaUK) November 15, 2019
This #AlcoholAwarenessWeek we're thrilled to partner with the amazing @NacoaUK, who provide support for anyone affected by a parent's drinking. Find out more about them and other support options here: https://t.co/2RpRvVb188 pic.twitter.com/Owm47wL1MI

— Alcohol Change UK (@AlcoholChangeUK) November 14, 2019
— Tony Adams (@TonyAdams) November 13, 2019
https://platform.twitter.com/widgets.js
Proud spreading the Nacoa word at Insightful Families conference on the 'impact of alcohol on children'.

Wonderful on #alcoholawarenessweek seeing so many organisations working to help COAs. Seeing films by Nacoa volunteers brings the whole thing to life. #URNotAlone pic.twitter.com/uNlTsuWHfo

— Nacoa (@NacoaUK) November 12, 2019
having an alcoholic parent is lonely, as a kid I was terrified to invite friends home over fear of drunk mum. I felt ashamed+alone, why was it only my mum that didn't love me? she did, but alcoholism hides that. It's a disease, we won't cure it by hiding it#AlcoholAwarenessWeek https://t.co/sVBnxncdxA

— Jack (@JackStokes97) November 12, 2019
Not sure who needs to hear this today but it's #alcoholawarenessweek and certain things are swirling in my mind. It's for anyone who has lost a loved on to addiction, or for anyone dealing with a loved one right now.

— Poorna Bell (@poornabell) November 11, 2019
Its #AlcoholAwarenessWeek & the theme is 'alcohol and me'. After losing my mum I haven't been able to touch alcohol. I kept hidden my pain for more than 10 years & now I'm determined to raise awareness. My 360 film Anonymous shares my story of being a COA. Help me share my voice. pic.twitter.com/Yli7wh7z18

— Samantha Kingston (@K_Samantha1) November 11, 2019
It's #AlcoholAwarenessWeek and I just wanted to mark it somehow. Anyone who has dealt with parental alcohol misuse… anyone who is trying to support an addict through recovery… you are not alone.
Alcoholism is a serious, serious addiction that destroys many lives. pic.twitter.com/99rrF6b7Jm

— situation-normal is still playing fire emblem (@situationnorma1) November 11, 2019
Alcohol… the only drug most people make me explain why I don't take #AlcoholAwarenessWeek pic.twitter.com/Hp1PAL37oY

— Josh Connolly (COAisathing) (@josh_ffw) November 11, 2019
At times I have hidden behind compassion along my healing journey because I didn't want to face the pain.

I thought that admitting my anger, my feeling of being let down, and my sadness was somehow betrayal or took away from my love.

I was wrong! #AlcoholAwarenessWeek pic.twitter.com/FyFEKURkFx

— Josh Connolly (COAisathing) (@josh_ffw) November 14, 2019
Today marks the start of #AlcoholAwarenessWeek, which is all about alcohol and you! Explore our interactive body map to learn more about the impact of alcohol on your body and how even small changes to your drinking can improve your health: https://t.co/cWqOdxe3Jj pic.twitter.com/42py6rPvXQ

— Alcohol Change UK (@AlcoholChangeUK) November 11, 2019