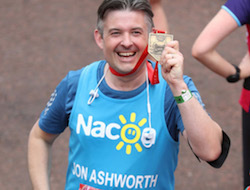 Shadow Health Secretary, Jonathan Ashworth MP, is running the London Marathon for a second time raising funds and awareness for Nacoa.
Since the launch of the All Party Parliamentary Group on Children of Alcoholics in 2016, Ashworth has become a vocal supporter of Nacoa, and recently visited the Bristol offices to meet volunteers and fellow Nacoa supporters.
The Sunday Express, who lately launched their 'crusade for children of alcoholics', quotes Ashworth saying: 'I did say: 'Never again' after I did it last year. It's such an important cause and one that I'm passionate about…Helping raise awareness of the plight of children of alcoholics so if this can help too then it's worth doing.'
In 2017, Ashworth raised over £8,000 for Nacoa. As a small charity, who receive over 32,000 requests for help every year, this made a phenomenal difference to our work helping children affected by parental alcoholism.
Nacoa is the only dedicated helpline service providing information, advice and support for children affected by parental alcoholism. Without the support of supporters like Ashworth, we simply could not be there for the children living with this issue and feeling it is their fault.
And this year, with your help, Ashworth is aiming to exceed last year's incredible donations.
To send your support and pledge a donation to Jonathan, visit his JustGiving page here. 
Ashworth broke the political mould in 2017 by bravely standing up in the Houses of Parliament and discussing his experiences of growing up with a father who had a drink problem. Although his relationship with him was one of love and affection, he said that, 'Dealing with my dad's alcoholism coloured my upbringing and my life.'
Through his work with the APPG and the UK Government, he and other MPs are hoping to make a serious changes to Government policy to help support children growing up in a household where one or both parents drink too much. He recently said: 'Now I've got this job as the Shadow Health Secretary, and by speaking out, I can hopefully change things a little. I can have achieved something and [that will] make it all worthwhile.'
By running the London Marathon, Ashworth is generating some much needed funds for Nacoa while raising the profile of our work. He said that, 'Every child has the right to a happy childhood and to live a creative and meaningful life but when drink is the family secret they are more likely to experience family violence, neglect and other problems in their own homes.'
In 2016, Nacoa received over 32,000 calls from people affected by their parent's drinking. We currently employ only two full time members of staff, but mobilise over 100 active volunteers who answer the phones and deliver talks in schools. Every penny pledged really goes that extra mile!
You can show your support for our work by sponsoring Jonathan. Please click this link, or copy and paste it in to your browser: https://www.justgiving.com/fundraising/jonathan-ashworth5 
Dear @JonAshworth he never stops trying. Well worth a drop.https://t.co/71qMusD9EV

— Russell Brand (@rustyrockets) April 15, 2018
So incredibly emotional just listen to shadow health secretary @JonAshworth talking about the death of his father #Lab17 #TWT2017 pic.twitter.com/PD2wiArVlt

— ARTIST TAXI DRIVER (@chunkymark) September 25, 2017