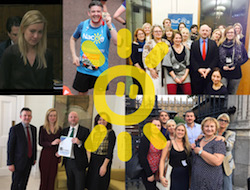 This week the government announced that they will launch the UK's first ever strategy to help children affected by parental alcohol misuse.
Under new plans announced by Health and Social Care Secretary Jeremy Hunt today to help identify and support at risk children more quickly.
A funding package has been proposed that will aim to:
Rapid access to mental health services and support for children and their whole families where there is a dependent drinker
 Identify and support at risk children more quickly – including those undertaking inappropriate care responsibilities
Provide outreach programmes to get more parents successfully through addiction treatment
Offer early intervention programmes to reduce the numbers of children needing to go into care
This has been a direct result of Nacoa's leading role as part of the All Party Parliamentary Group on Children of Alcoholics, whose Manifesto for Change was presented to the government in February 2017.
Nacoa is the only dedicated helpline service providing information, advice and support for children affected by parental alcoholism. To receive recognition from the government that these vulnerable children  are in significant numbers in the UK and deserving of our—regardless of whether their parent continues to drink—is a momentous success for all with Nacoa.
Health Secretary, Jeremy Hunt, said of the plans to help children affected:
"The consequences of alcohol abuse are devastating for those in the grip of an addiction – but for too long, the children of alcoholic parents have been the silent victims. This is not right, nor fair.
'These measures will ensure thousands of children affected by their parent's alcohol dependency have access to the support they need and deserve.
'Some things matter much more than politics, and I have been moved by my Labour counterpart Jon Ashworth's bravery in speaking out so honestly about life as the child of an alcoholic. I pay tribute to him and MPs with similar experiences across the House who have campaigned so tenaciously to turn their personal heartache into a lifeline for children in similar circumstances today.'
Chair of the APPG on Children of Alcoholics, Liam Byrne, has summarised this momentous achievement in this video chronicling the story of two years.
To the thousands of children of alcoholics who supported our campaign, THANK YOU! Today, your voice was heard!

Here's a look back at the journey we've taken together.

@NacoaUK @JonAshworth @CarolineFlintMP #IAmCOA pic.twitter.com/38HFCP0tky

— Liam (@LiamByrneMP) April 23, 2018
The Shadow Health Secretary, Jonathan Ashworth, who last week raised over £10k for Nacoa by running the London Marathon, said the following:
'So today's announcement is a positive first step in introducing the levels of support children of alcoholics need. I'm pleased the government have listened to some of the concerns that have been raised and Jeremy Hunt deserves our thanks for his commitment to taking action on this issue.
'As I know from speaking myself it is never easy, it's emotional and can bring huge feelings of guilt. But by speaking out we have alerted government to a very real issue in society.'
A proud day for all with Nacoa. The first ever dedicated government support for those affected by a parent's drinking felt a distant dream until @LiamByrneMP walked into our office. What a journey it's been!

Thx to all involved, especially our callers. https://t.co/KD8ZliFl3A

— Nacoa (@NacoaUK) April 23, 2018