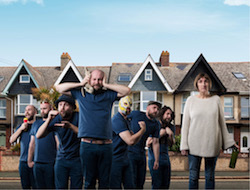 Over recent years, awareness of the challenges faced by children affected by parental alcohol problems has increasingly grown in public consciousness. Amidst our campaigns to draw awareness to this hidden harm, we have been delighted to see sensitive portrayals emerge of families under the shadow of alcohol addiction in original works of film and theatre.
We are then very pleased to lend our support to a new theatre production, Rum in the Gravy Boat: 'Devised and performed by Leigh, Rum in the Gravy Boat is his personal story about growing up with an alcoholic mother and how theatre enabled him to escape from his mother's drinking.'
The show has just completed its UK tour, and in May will start its run of shows at the Brighton Fringe Festival. Brighton Fringe is England's largest arts festival and one of the largest fringe festivals in the world, and will be a fantastic opportunity to open a dialogue about parental alcohol problems with the public at large.
Artistic Director Leigh Johnstone wrote and stars in the play. He says that the play was born from reflections on a sense of escape he found in theatre as a young man, as his family-life became disrupted by spiralling alcohol problems:
'Something happened when I was a child that made life both deeply unbearable and beautifully profound. At the same time a weird alchemy occurred, something good from the bad, and it stirred in me a deep fascination to perform that I just couldn't shake off.'
For ticket information for the Brighton dates, click here.
Dates: 11 – 13 May 2018.
Leigh's story can be found in our Experiences page here.