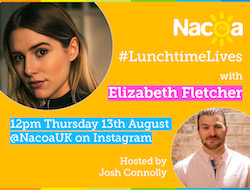 In this series of Lunchtime Lives, we'll be meeting with people who have changed the lives of children of alcohol-dependents through their own advocacy and heroism. And in this episode we met Elizabeth Fletcher.
Join us on the @NacoaUK Instagram 12pm tomorrow to watch live and join in the conversation with Lizzie and Josh.
Lizzie discusses how her dad battled alcoholism. Many will relate with Lizzie's story of adoring her father when he had his alcohol problems under control, and feeling a powerful urge to protect him when things were on a downward slope.
Josh and Lizzie discuss how they tried to hide the reasons for their parents death. And of misdirecting anger and resentment onto other family members because they thought 'they could handle it'. If you enjoyed this video, please like, subscribe and leave a comment in the comments page.
Why not check out our other Lunchtime Lives on our YouTube page and subscribe to the page to hear about future episodes.