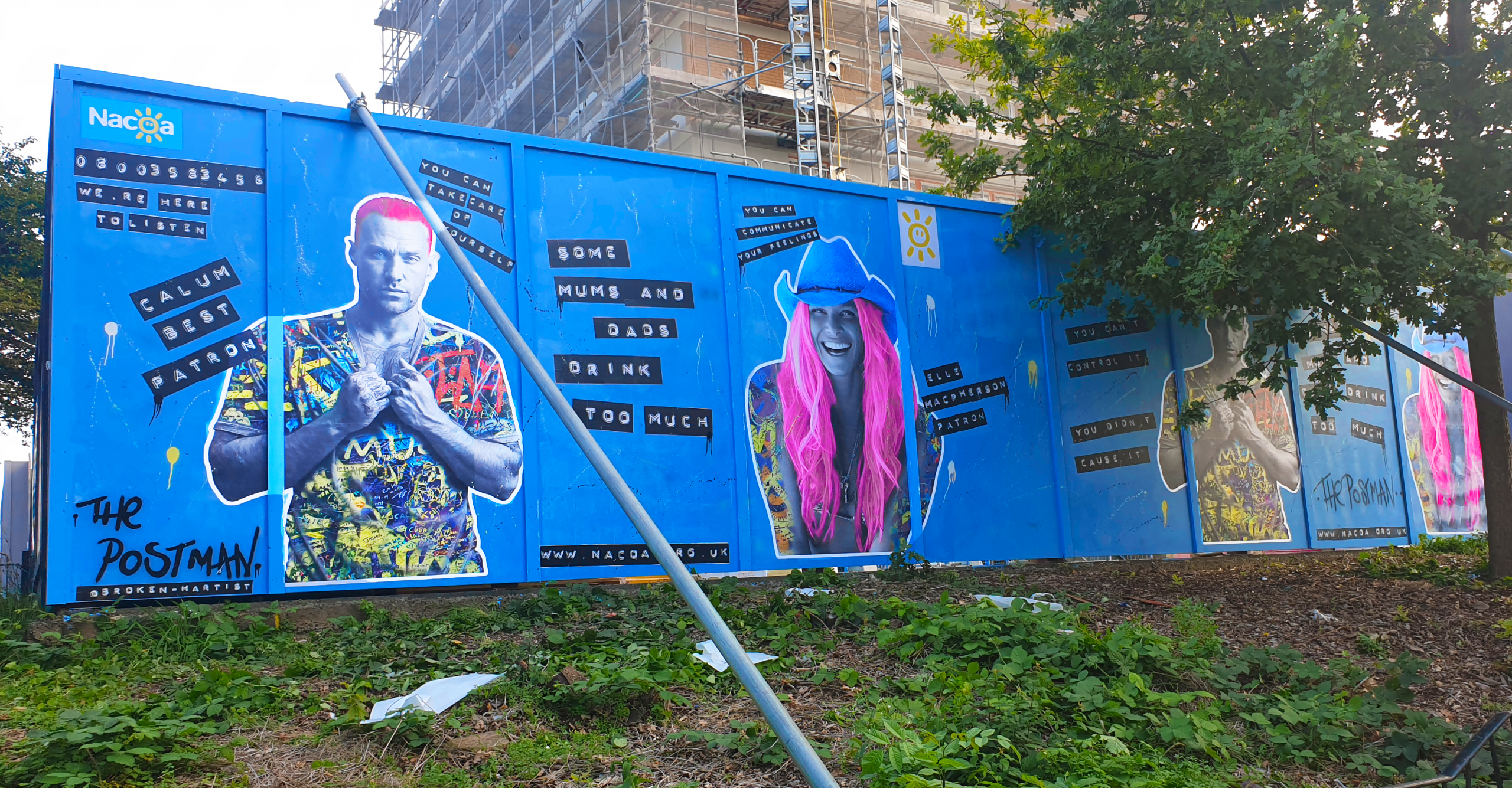 Calum Best and Elle Macpherson get behind huge Bristol poster and mural campaign with Brighton based artists The Postman and Broken Hartist to reach and support the children of alcoholic parents suffering in record numbers since Covid19.
'We're here to listen.'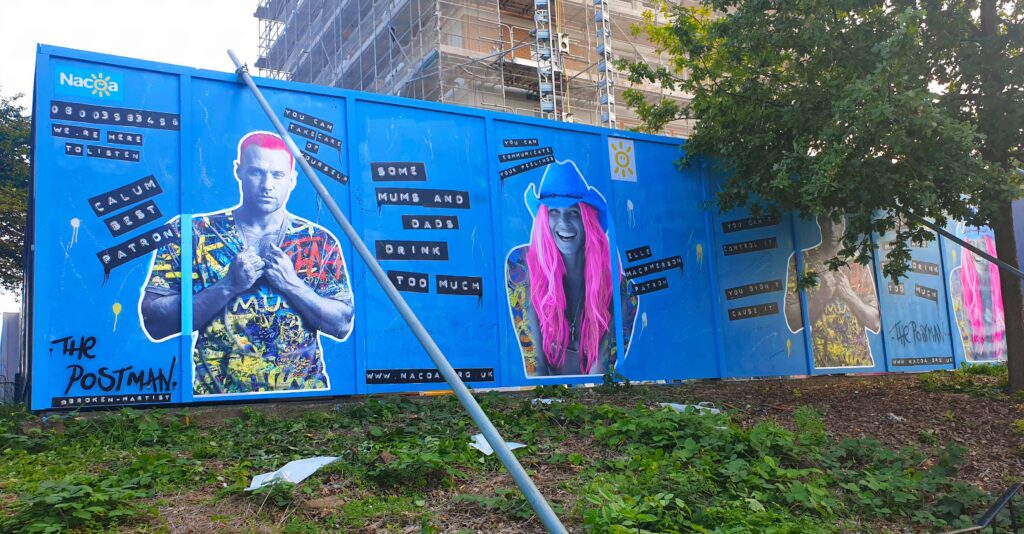 Celebrity patrons of Nacoa (national children's helpline charity) have teamed up with Upfest and Brighton artists The Postman and Broken Hartist to raise awareness for children affected by their parent's drinking, suffering in record numbers since Covid19.
Original Postman Art portraits of Elle Macpherson and Calum Best will be printed as A1 posters and posted on 90 billboard locations all around Bristol. The Postman Artist will paint a 30 x 8 foot mural of the images on North Street, Bedminster. Prints will go on sale via Upfest to raise funds and awareness for Nacoa.
Parental alcohol misuse in the UK
There are approximately 2.6 million children in the UK with a parent who drinks too much. Around 900,000 of those live in a home with one or more 'alcohol-dependent' parents.
Life for these children often means living in a home full of fear and having no one to turn to because everyone denies there's a problem. Experiences often follow these vulnerable children into adult life, being much more likely to witness domestic violence, consider suicide, or develop drink or drug problem themselves.
Children affected by their parent's drinking and Covid19
Nacoa has received record numbers of calls for help since Covid19 hit the UK, and numbers continue to steeply rise. Calls doubled during the first weeks of lockdown.
New numbers from Nacoa show that there has been a 38% call increase overall since last year, which amounts to approximately 266 more discrete calls per month. In that time, calls from 12-28 year olds have also increased by as much as 5 times since 2019.
There has been much speculation since lockdown started in March whether or not alcohol consumption is rising. Indications are that sales increased significantly, with off-license sales of alcohol increasing 30%. Research has seemed to show that the demographic who have significantly increased their drinking are those at the higher end of consumption.
Quotes from helpline callers (cleared and anonymised for public release)
'The whole Coronavirus situation has led to her ordering huge crates of beer and wine.'
'There is no escape and I'm more trapped than ever.'
'Coronavirus lead to me being at home more and my mum's drinking is worse than ever. I am so isolated and she is very violent, I don't know where to turn to.'
'I lost my Mum to alcoholism. I feel as though my grief doesn't matter anymore now that coronavirus is everyone's priority. I'm not sure where to turn.'
++ Ends ++
Contact:
Communications:
Communications lead: Piers Henriques, 0785 553 3962, communications@nacoa.org.uk
Nacoa
0117 924 8005
admin@nacoa.org.uk
Monthly helpline call comparison by year:
Year April 2020 May 2020 June 2020
2020 715 899 1,297
2019 609 515 988
Editors Notes:
Credits
• The Postman are a Brighton based artist collective known globally for their colourful, punk artworks of icons past and present. Their work can be found in form of street art in cities around the world. They are generously working pro bono to raise awareness of Nacoa's work helping children of alcoholics.
• Broken Hartist are a street art duo spreading love and wellbeing on the streets through words and imagery.
• Upfest is the Bristol-based art company who are the masterminds of Europe's largest urban art festival in Europe. The Upfest Festival has been attached to Nacoa as charity partners since its creation in 2008.
• Out of Hand Printing is a graphic design, printing and national distribution network. They are the catalyst behind distributing the Postman Art posters free of charge to billboard locations around Bristol.
• Nacoa is the national helpline charity for everyone affected by their parent's drinking, and those concerned for their welfare. Nacoa lead the national campaign to raise awareness for problems faced by children of alcohol-dependent parents, and offer free, accessible help to anyone in the UK.
Parental alcohol misuse, key facts:
• There are an estimated 2.6 million children in the UK living with a parent who drink too much.
• Sadly, problems often persist into adulthood. Millions of adults are still affected by their parent's drinking and the effects of growing up with alcohol problems.
• Children living with parental alcoholism are:
• Six times as likely to witness domestic violence
• Five times as likely to develop an eating problem
• Three times as likely to consider suicide
• Twice as likely to experience difficulties at school
• Three times as likely to develop alcoholism or addiction
• Twice as likely to be in trouble with the police
• Nacoa (registered charity no. 1009143) was founded in 1990 to provide information, advice and support to everyone affected by a parent's drinking. This is provided through a free and confidential telephone and email helpline and website. Helpline: 0800 358 3456, Email: helpline@nacoa.org.uk, website: http://www.nacoa.org.uk